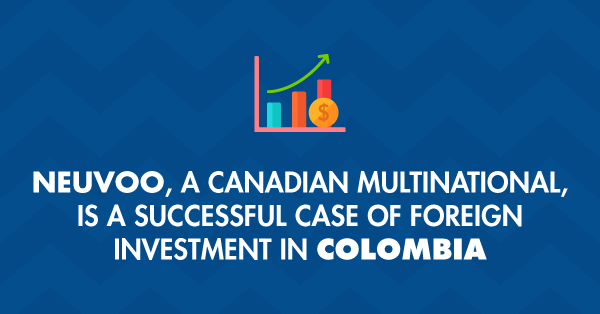 Neuvoo: A successful case of investing in Colombia
Neuvoo: The Canadian firm that believed in Colombia as an investment destination
Neuvoo's information creation and maintenance center takes care of the robots and infrastructure that supports the Canadian firm's online operations worldwide. When Neuvoo arrived in Colombia, it became one of the companies that helped increase the amount of foreign direct investment in Colombia (FDI) to reach US$8.8bn in 2016 alone.
The North American company, which has been operating in the Antioquia capital since March 31 of this year (2017) made the decision to invest in Colombia and make a base in Medellín thanks to factors such as the city's pool of innovative talent, work culture, commitment and responsibility, shorter hiring periods and competitive costs when compared to the Canadian market (Discover some of the top reasons for investing in Colombia here)
Foreign investors in Colombia that are serving the world
Nuevoo is the first search engine on the global stage in French and the world's second-largest. It is a Canadian multinational that operates in 64 countries and has its main offices in Montreal. It also has operations in Lausanne, Switzerland to serve markets in Europe, the Middle East and Africa.
With more than 20 million databases worldwide, the virtual platform facilitates and integrates job searches from employment pages, agencies and companies and brings them together on the same website.
The company began its foreign investment with projections of US$ 5 million and the medium-term hiring of 100 employees, in order to operate its global creative and support laboratory from Medellín and serve clients such as Disney, Uber, PriceWaterhouseCoopers, the Royal Bank of Canada, Manpower and Credit Suisse. It represents one of the international investments that was made possible thanks to the support of entities such as PROCOLOMBIA, Medellín's Co-operation and Investment Agency (ACI) and Ruta N Medellín.
In the words of Felipe Jaramillo, PROCOLOMBIA's president: "Neuvoo's investment in Medellín ratifies the strong momentum and development potential of the IT sector in this country. The company's arrival is excellent news and support for the development of talent in the city, with a greater transfer of knowledge, technology and job creation. More than 100 new positions will be created by this company."
Lucas Martínez, co-founder of the Canadian firm, explains that it became one of the businesses that are investors in Colombia "because we are convinced that Colombia is the future. Our objective is to double the number of visitors using our search engine and to double incomes, which is why we need the top talent when it comes to developers and project managers and we've found that here. We have plans to create a research center in Medellín."
Martínez also highlights that Medellín is a dynamic city with a clear determination to earn its place on the world stage. "We want to support that," he said. "We are already recommending the city and Colombia to our business colleagues in Colombia," which will motivate even more people to start investing in Colombia.
Investment decisions in Colombia
Given the need to relocate its operation from Caracas, Venezuela, Neuvoo analyzed several markets in the region before deciding upon Medellín. When it comes to making investment decisions like this in Colombia, the advice and guidance of PROCOLOMBIA's commercial office in Canada is key.
Some of the advantages of investing in Colombia, according to Martínez, are that the country is an "optimistic market with high potential. The implementation of the peace agreement and post-conflict has opened the door for a greater influx of foreign investment. It's important to encourage entrepreneurship because there is so much talent here. The idea is to continue growing in the processes of robots and computer sciences, achieving excellence in each of those and taking advantage of our own technology to offer an even greater value to clients. That need is met here."
Would you like to know more about the Software and IT Services sector within Colombia? It's one of the sectors that stands out when it comes to considering what to invest in, in Colombia with programs such as Gobierno en Línea (Government Online), Fortalecimiento de la Industria TI (FITI) (The Strengthening of the IT Industry (FITI)) and Vive Digital (Live Digital). Find out more about investment opportunities in the sector here and be inspired to become one of our foreign investors in Colombia.
Cosmetics and personal care
Information technology and creative industries