Outsourcing of Services BPO
Colombia has a regionally recognized business process outsourcing (BPO)[1] industry, with extensive experience in business areas such as contact centers, collection, inhouse technology provision, back-office, marketing, auditing, and consulting. These services are provided in industries as diverse as banking and financial services, telecommunications, mass consumption, health, government, hydrocarbons, insurance, utilities, logistics, among others.
Why invest in the service outsourcing sector in Colombia?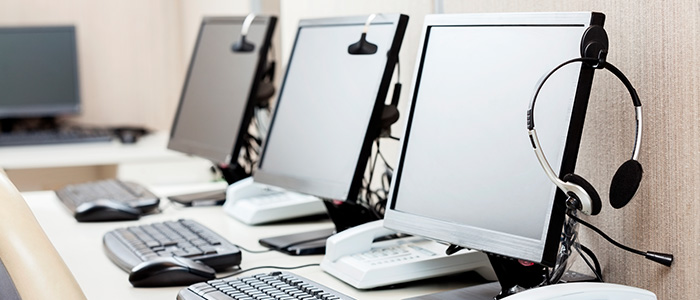 The exponential growth of companies, the increase in service exports, access to new markets, and the arrival of foreign investment allow us to determine the sector's potential
Colombia ranks third in A.T. Kearney's Latin America service location indicator.
The country captures 13.1% of BPO sales in the region and is among the top markets in the region for sales, surpassing Argentina, Peru, and Chile (Frost and Sullivan).
In 2019, the contact center industry mostly served the telecommunications and financial services sectors, with more than 50% of operations.
The contact center industry in Colombia is expected to maintain a cumulative growth rate of 3.8% between 2018 and 2022.
BPO is the contracting of business activities and functions with an external supplier. Outsourcing services can include: payroll, human resources (HR), accounting, and customer relations (call centers). BPO categories are front-office customer services (such as technical support) and back-office business tasks (such as billing). Outsourcing services are important because they improve the speed and efficiency of various business processes.
Export performance in the service outsourcing sector
Exports from the BPO sector in Colombia increased 9.6% in 2019, reaching 1.165 billion according to the National Administrative Department of Statistics (DANE) and positioning the country in the region. The United States and Spain were the main destinations for call center service exports from Colombia in 2019.
Colombia has a high quality telecommunications network and infrastructure
Colombia has 11 submarine communications cables in operation, making it the second country in the region with the largest number of cables. This allows Colombia to offer excellent international connectivity with fast data transmission and stability.
According to the Ministry of Information Technology, Colombia registered 2.8 million broadband connections in 2010. In 2018, this figure reached 32.7 million connections.
The country has qualified human talent
According to the IMD World Talent 2019 Report, Colombia has the largest workforce in the region, with the highest rates of growth and training, ahead of countries like Peru, Mexico, and Brazil.
Colombia has 4 universities in the world's top 500 and 12 in the top 100 for Latin America, according to QS World University. Nine years ago, no Colombian university made the rankings.
Colombia enables scalable operations in 6 different metropolitan areas, each with over one million residents: Bogotá, Medellín, Cali, Barranquilla, Bucaramanga, and Cartagena (DANE).
BPO industry is one of the highest job generators in the country, with more than 583 thousand employees in the BPO sector (MARO—Colombia Productiva, 2019).
The National Learning Service (SENA), through its sectional offices, leads training campaigns for technicians and technologists in various areas related to BPO operations, such as administration, sales, and management, (Labor Observatory, BPO Sector Report).
Colombia offers competitive salaries for call center agents, according to a study by Nearshore Americas. This, combined with a highly skilled workforce, has led large BPO companies to transfer their operations to Colombia from other regional markets to serve their nearshore and offshore markets (mainly the United States and Spain).
International companies highlight Colombia as a location for business service operations
Global companies such as Amazon, Teleperformance, Atento, Convergys, and Konecta recognize the potential of the outsourcing industry in Colombia.
These are the investment opportunities for the BPO services sector in Colombia
Back-office service centers for ICT, finance and accounting, human resource management, engineering, and architectural design segments.
Voice service outsourcing operations in the telemarketing, collection, sales, or customer service verticals.
KPO operations in engineering, telemedicine, R+D+i, graphic design, legal services, and medical transcriptions.