Colombia's Shared Services Center (SSC) industry provides specialized solutions in human resources, finance, procurement, logistics, technology, back office services, digital transformation, among others, ensuring the highest levels of efficiency and strategic support that companies demand.
Why invest in the shared services sector?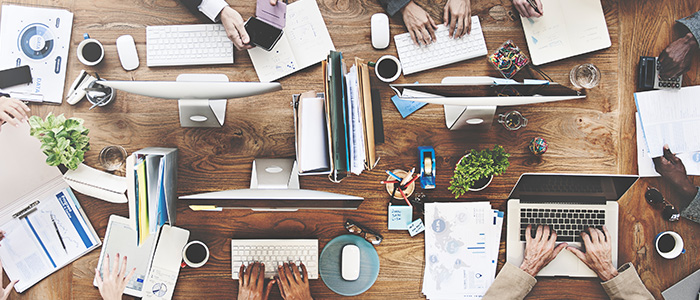 What makes this sector in Colombia so attractive?
Colombia ranks third in A.T. Kearney's Latin America services location index.
It is a market that registers growth and enjoys macroeconomic stability and investor confidence.
It is within Gartner's 30 leading locations for Offshore Services
It enjoys a privileged strategic location, in the center of five time zones and sharing a time zone with important business centers such as New York, Toronto, and Miami.
The country is located between the major commercial and financial hubs in the hemisphere and shares relevant cultural affinity patterns to help consolidate operations in the region.
In addition, Colombia is recognized for having a natural service culture.
What are the characteristics of the shared services center industry in Colombia?
The industries for which the most services are provided from Colombia are production, mass consumption, and distribution (20%), construction (12%), and technology (10%).
The city with the largest number of SSCs is Bogotá (62%), followed by Medellín (28%), and Cali (7%).
Companies open SSCs in Colombia to provide both local (28%) and regional (64%) services.
Ecuador and Mexico are the main countries served by the surveyed Colombian SSCs.
Spanish, English, and Portuguese are the predominant languages spoken in the services provided by centers in Colombia.
Current Colombian SSC's portfolio includes the following services: human resources, finance, procurement, logistics, technology, back-office services, and digital transformation.
(Shared Services Survey 2019, Ernst & Young and ProColombia, 2019)
Colombia has high quality telecommunications network and infrastructure
Colombia has 11 submarine communications cables in operation, ranking second in the region for the highest number of cables. This allows Colombia to offer excellent international connectivity with fast data transmission and stability.
According to the Ministry of Information Technology, Colombia registered 2.8 million broadband connections in 2010. In 2018, the number increased to 32.7 million connections.
Colombia has a highly skilled workforce for SSC operations
The main reason to invest in this sector in Colombia is the availability and quality of qualified talent at a reasonable cost.
According to the 2019 IMD World Talent Ranking, Colombia's workforce is the largest in the region, with the highest growth and training rates, surpassing Peru, Mexico, and Brazil.
According to the QS World University Rankings, 4 Colombian universities ranked among the top 500 in the world and 12 among the top 100 for Latin America. Nine years ago, no Colombian university made the rankings.
Colombia offers opportunities for scalable operations in 6 metropolitan areas, each with more than one million residents: Bogotá, Medellín, Cali, Barranquilla, Bucaramanga, and Cartagena (DANE).
Cultural links: With respect to the Spanish language, Colombia has the third largest Spanish-speaking population in the world, which makes it an ideal market to centralize operations for the rest of Latin America. Additionally, it has one of the most neutral accents for voice operations (Economist Intelligence).
Success stories in the SSC sector in Colombia
Global companies such as Amazon, Johnson & Johnson, Diageo, Stanley Black&Decker, and SAP recognize the potential in the shared services center industry in Colombia.
Investment opportunities in the shared services center sector:
Development of SSC operations, taking advantage of the quality of qualified professional in different regions of the country.
Setting up SSCs for finance, accounting, IT, procurement, human resources, and value-added services. Operations in English and Spanish.

SSCs specialized in telemarketing, debt collection, sales, customer service, and call centers that allow a greater insertion into formal employment, especially by the country's workforce with technical and technological degrees.
Service centers focused on back-office, outsourcing of financial and accounting services, human resources, logistics, and Level II help desks that can cater to the needs of businesses in the financial, logistics, and oil sectors, among others.
Construction of outsourcing centers for engineering services, telemedicine, R+D and innovation, graphic design, and business analytics since these are high value-added services in demand among different verticals in Colombia.

Setting up offshore platforms to serve foreign markets.