Data Centers
In recent years, Colombia has made significant investments in the construction of data centers that favor the consolidation and growth of the country's tech sector. More than 20 data processing centers have been established, with important companies such as IBM, and Hostdime Inc, who in 2020 started the construction of a Tier IV certified Data Center in Tocancipa, Cundinamarca, considered to be the largest data center in Latin America.
Why invest in the data center sector in Colombia?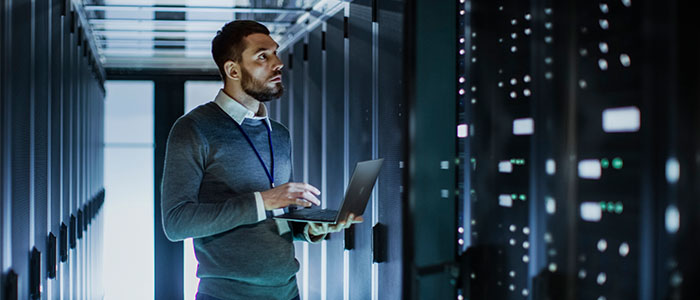 Colombia has a large and outstanding data center industry in the region
Frost & Sullivan predicts that by 2021 Colombia will be the third-largest market in the region for data centers with an 8.4% share.
According to Frost & Sullivan, thanks to its strategic position, Colombia will increase its share in the region by 1% from 2017 to 2022, and will account for approximately 9% of the market.
Several international companies have decided to increase their capacity to meet the growing demand in Colombia. IBM built a technological complex with 5,000 m2 of available space. This data center achieves a power of 1.9 megawatts with two entirely redundant generators. In 2016, Claro tripled its space since they doubled their operation in recent months. It serves 600 large companies in the country and is becoming a cloud hub for 8 countries in the region. Telefonica, Level 3, and ETB are also expanding their operations.
Colombia has a high-quality telecommunications infrastructure
Colombia has 11 submarine cables that allow it to provide excellent international connectivity with fast data transmission and connection stability.
At present, 98% of the municipalities in the country are connected to the world through optical fiber.
Colombia has optimal power connectivity and operators
Over 65% of the country's electricity comes from environmentally-friendly hydropower. The quality of energy provision is outstanding. According to the World Economic Forum, Colombia ranks first in Latin America and eighth in the world in the Energy Architecture Performance Index 2017 (WEF, 2017).
In recent years, 529 power generation projects were registered with UPME in various stages of development, with an installed capacity of up to 15,771 MW.
Colombia has a robust business sector to meet the energy demands of the industry, with large companies such as EPM, Gas Natural Fenosa, and Celsia Group.
Qualified human resource
In 2019, more than one million students in Colombia graduated from software and IT services programs, including systems engineering, industrial engineering, electronic engineering, mechanical engineering, and electrical engineering, principally in Bogotá, Antioquia, and Valle del Cauca (Labor Observatory, Ministry of Education).
Colombia offers scalable operational capabilities in 6 metropolitan areas each with more than one million residents: Bogotá, Medellín, Cali, Barranquilla, Bucaramanga, and Cartagena (DANE).
What are the geographical conditions and risks inherent to installing data centers in Colombia?
According to studies by the Colombian Geological Service, the annual seismic trend in Colombia indicates that earthquakes with a magnitude greater than 8.0 on the Richter scale occur every thirty years. Colombia has a low rate of natural disasters; in the last 16 years there have only been 5 earthquakes above 6.5 on the Richter scale.
Colombia is located at a latitude associated with constant temperature throughout the year. Climate is determined by the city's altitude and its distance from the sea
Bogotá, the Colombian capital, has a favorable climate for the consumption of energy by a data center. According to SSON Analytics Global Data Analytics Centre, Bogotá is one of the safest places in the region when it comes to natural disasters.
Cybersecurity is a commitment at a national level. Colombia became one of the first countries in the world to enact a specific cyberspace law. Law No. 1273 covers areas such as illegal access to personal information, data interception, data destruction, and the use of malicious software.
Discover investment opportunities in the Data Center sector in Colombia:
Construction of data centers to meet local demand. The country has 14,000 m2 of data centers for the more than 48 million inhabitants. This means there are investment opportunities in the expansion of supply in this sector.
Colombia has the ability to meet the high demand of the domestic and foreign market in data processing and storage for various industries (retail, government, finance, telecommunications).
Investment sectors
Agricultural products & Food production

Energy

Healthcare services and life sciences

Hospitality and tourism infrastructure

Information technology and creative industries

Infrastructure

Manufacturing industries

Private equity and venture capital

Real Estate