Software and IT Services
Colombia has a consolidated and growing IT software and services industry, with experience developing specialized IT solutions in different verticals such as Fintech, health, agroindustry, oil and gas, energy, telecommunications, logistics, government, digital marketing, virtual and augmented reality, businesses, big data, among others. With a government committed to digital transformation as the driving force behind Colombia's transformation by 2022, the country is currently one of the main technology-based services providers in the region.
Why invest in the IT software and services sector in Colombia?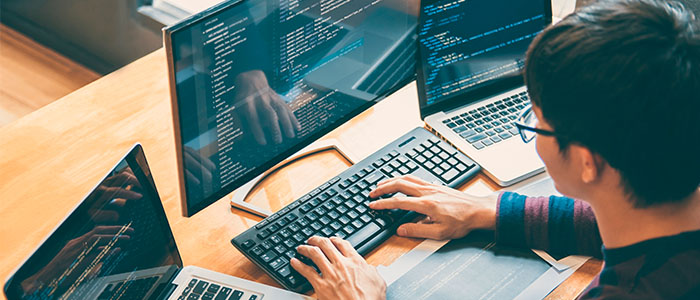 The Colombian IT software and services sector is relevant in the international market
In 2019, Colombia positioned itself as the fourth largest IT market in Latin America, after Brazil, Mexico, and Chile. The IT software and services market in the country exceeded US $8,2 billion in 2019. (IDC - estimated figures).
Colombia has a strong and growing domestic demand, with the following sectors recording the highest IT expenditures: the manufacturing industry (US $1.638 billion), government (US $1.563 billion), financial sector (US $1.494 billion), and communications (US $1.394 billion). (IDC/Gartner).
There is a solid network of accelerators, incubators, investment funds, and technology parks that add value and contribute to the strengthening of the country's innovation ecosystem.
How have the exports of the Colombian IT software and services sector behaved?
IT services exports experienced an average growth of 3% between 2015 and 2019, amounting to US $229.1 million and positioning the country as a platform to reach different markets, including the United States (33%), Ecuador (14.1%), and Mexico (8.3%).
Colombia has a high quality telecommunications network and infrastructure
Colombia has 11 submarine cables in operation, positioning itself as the second country in the region with the highest number of cables, offering excellent international connectivity , fast data transmission, and stability.
According to the Ministry of Information Technologies, Colombia had 2.8 million broadband connections in 2010. In 2018, this number reached 32.7 million connections.
Colombia offers qualified and cost-efficient human capital
According to the IMD World Talent 2019 Ranking, Colombia's workforce is the largest in the region and is ranked number one in terms of growth and training, surpassing countries such as Peru, Mexico, and Brazil.
There are four universities in the country ranked among the top 500 in the world and 12 in the top 100 in Latin America, according to QS World University rankings.
Between 2001 and 2018, 690,491 students graduated from Software - IT operations related majors, mainly in Bogotá, Medellín, Cali, and Bucaramanga. (Ministry of Education).
The industry is characterized by having TSP/PSP (Team Software Process/Personal Software Process) certified technicians and professionals, a world-renowned model from the SEI Software Engineering Institute in the United States. (Ministry of Information and Communications Technologies - MinTIC).
Scholarships are also available for students pursuing Information Technology related careers in order to increase and strengthen the availability of human talent in this sector in the country.
These are some success stories of IT software and services companies in Colombia
Global companies such as Amazon Web Services, Microsoft, and Accenture recognize the potential of the IT software and services industry in Colombia and have invested in the country in recent years.
Investment opportunities in the software and IT services sector in Colombia
Development of mobile applications, software, and digital content, by leveraging the support provided by the government through the Vive Digital and Apps.co programs intended to promote and expand the creation of businesses based on the use of ICTs.
Creation of software factories, taking advantage of the critical mass of systems engineers and other related professionals who have been, or are being, prepared with high educational standards.
Software applications maintenance for companies in different industries, as well as implementation of operations that provide complete remote infrastructure management services.
Investment sectors
Agricultural products & Food production

Energy

Healthcare services and life sciences

Hospitality and tourism infrastructure

Information technology and creative industries

Infrastructure

Manufacturing industries

Private equity and venture capital

Real Estate