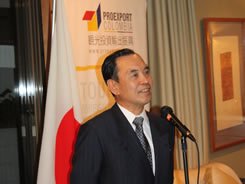 Yokohama Bank President highlights the positive environment for foreign investment in Colombia
Tokyo, Japan. About 80 Japanese investors learned of the positive economic situation in the country and its potential as an investment destination through the testimony of Tetsamuro Terazawa, president of Bank of Yokohama in Japan, in an event organized by PROCOLOMBIA and the Embassy of Colombia in Tokyo.
"Today Colombia is a country of upper-middle income with a high proportion of young population, which is an excellent opportunity to think about investing in Colombia" said the official. He added that these advantages also include "the fiscal discipline that Colombia has enjoyed historically, the average growth of five percent of the economy in the last 100 years, and its political stability."
In his recently published book on Colombia, he highlights the recovery of the degree of investment stated by the major risk rating agencies in the world, and brought up the World Bank Doing Business study, which points out Colombia as the third country in Latin America and the Caribbean with the best business environment.
In the event, PROCOLOMBIA also showed attendees the investment opportunities offered by different sectors in Colombia for the establishment of companies and the development of Japanese projects in the country.
In recent years, Japan's investment in Colombia has targeted the automotive, financial, medical equipment, mining, real estate and trade markets among others. Among the Japanese companies already installed are Mitsubishi, Marubeni, Mitsui, Itochu, Sumitomo, Toshiba, Toyota, Sumimoto Mitsui Financial Group, Hino Motors.
Cosmetics and personal care
Information technology and creative industries