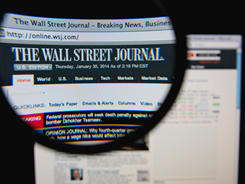 Wall Street Journal: Investors Can't Get Enough of Colombia
The American journal recently published an article highlighting foreign enthusiasm for Colombia's economic stability and legal certainty.
Nicole Hong, author of article 'Investors can't get enough of Colombia', stated that "the country shows a positive growth and very low inflation compared to other emerging-markets that failed to achieve such well-balanced growths. Colombia's outlook is promising, which makes it very attractive to foreign capital".
According to the WSJ article "Investor's can't get enough of Colombia," and analysts consider this as evidence of the results yielded by the Government's efforts to bring capital. The journalist declared that "the current Free Trade Agreements in Colombia are a positive reference for investors, as the country is regarded as a more open and receptive market".
"Colombia's economy looks pretty attractive relative to countries like Venezuela and Argentina, whose economies are under severe stress and where investors face significant government intervention. Colombia's economic growth is also expected to pick up this year, with subdued inflation, a rarity among Latin American countries", pointed out the WSJ in its article published in March.
According to the journal, achieving the investment grade in 2011 and the corresponding improvements by risk assessment firms have served as the launching platform to become entrenched as an attractive destination.
Cosmetics and personal care
Information technology and creative industries