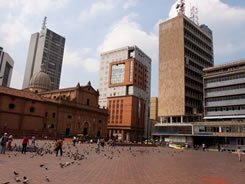 Valle del Cauca, hub of development and foreign investment in the Pacific
More than ten companies, most with foreign capital, began operations this year in the Valle del Cauca, according to reports made by PROCOLOMBIA and the investment agency Invest Pacific.
There continues to be a great investment dynamic in the region, particularly due to entrepreneurs' interest in being close to the Port of Buenaventura, says Bertha Rojas, manager of the Pacific Free Trade Zone.
A plant for the Furukawa company, which produces optical cables, will be inaugurated in the next few weeks in the Pacific Free Trade Zone. The company, which belongs to a Japanese group, made an investment of US$5 million and will serve local and foreign markets.
In August, the company Unilever, which has a presence in Palmira, will officially start up a new plant for the production of detergents in which US$80 million were invested and which, according to company projections, will create 130 direct jobs. The industrial complex will have a production capacity of 80,000 tons in order to satisfy national demand as well as the demand from neighboring countries.
Other companies that have recently started operations in the region include the Swiss BPO services company TWW and the American company Aptar, which makes plastic packaging for cosmetics and foods.
In addition to the industrial and services-oriented projects that are settling in the Valle del Cauca, several international brands in the hotel sector have also come to the region. In the past few months, Marriott, City Express (a Mexican company), and Hampton by Hilton hotels have all opened their doors, with investments totaling more than US$80 million.
Cosmetics and personal care
Information technology and creative industries