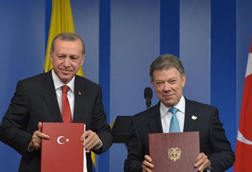 Turkey aims to increase foreign investment in Colombia
Within the scope of the first official visit of a Turkish leader to Colombia, President Recep Tayyip Erdogan invited his country's businesses to invest in Colombia and take advantage of the opportunities that the country offers in terms of large infrastructure projects, roads and highway development, airports and the metal industry amongst others.
One of the objectives that the Turkish and Colombian leaders outlined was to increase trade between the two countries to some US$5 billion by 2023. "We both have committed and we're going to deliver", said President Juan Manuel Santos during the Colombia-Turkey Business Forum, organized by Procolombia, in which the National Association of Industries (ANDI), and the DEIK (Turkish private sector industry group), signed a trade, investment and technology cooperation memorandum.
The Minister for Trade, Industry and Tourism, Cecilia Álvarez-Correa, explained that between January and November 2014 trade between the two countries stood at US$913 million. The Colombian official also added that during the first half of 2015 a meeting has be scheduled with the Turkish Ministry of Trade to study the agriculture and industry sectors as well as moving forward with bilateral relations.
In terms of investment, "there are various Turkish businesses that have their capital in Colombia and there is interest amongst them to bring more resources" added Álvarez-Correa.
In 2014 both countries signed an agreement for the promotion and protection to encourage investment. As a part of the trade stimulus, an agreement was made for the Turkish main airline "Turkish Airlines" to operate a direct flight from Ankara to Bogotá, as well as the implementation of bilateral agreements for military trade, security, energy, environmental, competition, agro industrial, cultural and tourism cooperation. 
Cosmetics and personal care
Information technology and creative industries