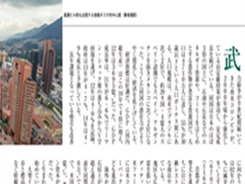 The Weekly Economist (Japan Edition) Evaluates Colombia as the "Best in Class in South America"
The magazine's article stressed that "Thanks to their security protection policy, Colombia's economy is developing steadily. The country's territory is three times larger than Japan's. Colombia has several energy resources like oil and coal, plus agricultural products, mainly coffee. Its population is 47.1 million. Currently, Colombia is the second largest economy among Spanish-speaking countries behind Mexico and ahead of Spain and Argentina".
The Weekly Economist journalist, who stayed in Bogota for a week, pointed out that regardless of the world's difficult economic climate, it is estimated that Colombia's Gross Domestic Product will increase by 4.9% in 2014, and the middle class will continue to grow to a total of 25.3%. Consequently, Colombia is "the best in class in South America", and infrastructure investments will now be the key to maintain this leading position.
The article adds that "Foreign Direct Investment (FDI) in Colombia is still on the rise. In 2012, FDI exceeded $15.6 billion USD - a figure never seen before in the country. The main investors are The United States, The United Kingdom, Spain, and Chile. Incidentally, many equity fund firms from these countries have settled in Colombia".
The magazine also touches upon the opportunities the Pacific Alliance brings as an integration tool, as well as the benefits expected in the short term.
The Weekly Economist is one of the four leading financial magazines in Japan, with over 80,000 copies issued every week and with a 90-year market history.
This publication is part of The Mainichi Newspapers Co, owner of the oldest newspaper in Japan, with more than 140 years of history, which has earned it a place among the 5 most important and influential journals.
Cosmetics and personal care
Information technology and creative industries