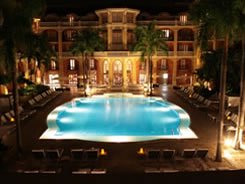 The United States increases its investment in Colombian industry and hotels.
This figure is an 18.5 percent increase over 2012 when 2.516 billion dollars arrived from the United States.
Investments by the world's largest economy were highlighted in first quarter of 2014 when a new H.B. Fuller plant opened, at a cost of 10 million dollars, which will increase business in cleaning products locally as well as in South America; in addition, IBM began operating the most modern Data Center in the region, with a 17-million dollar investment.
"When foreign investors look around the world to see where they'll put their money, they no longer think only about large, developed countries, they also look for the possibility of real growth and that's when they look at Colombia with special attention" stated Alvaro Merino, IBM Colombia's General Manager.
The hotel sector is also participating in investments originating in the United States: Hilton Worldwide announced that it had signed an agreement with the Fawcett Group to operate the Hilton Garden Inn that it will build in Santa Marta and will be available in 2016.
Danny Hughes, Hilton Worldwide Vice president for Latin America, said "the country's expanding economy and its efforts to attract local and international travelers has had a positive impact on the growth of tourism in Colombia."
Cosmetics and personal care
Information technology and creative industries