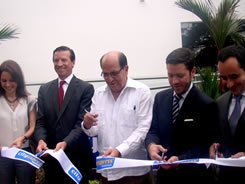 The Mexican Hotel Chain Hoteles City opens its first property in Colombia
Cali Colombia, March 18, 2014.-  The international Hotel chain Hoteles City, which caters to the affordable travel market segment, opened its first hotel in Colombia - City Express Cali -whose investment totaled U.S. $15 million. The hotel caters to business travelers that visit the city.
Hoteles City's Chief Executive Office Luis Barrios stated that over the past ten years, Hoteles City has become the leading chain in the affordable travel segment in Mexico given its rapid growth where on average, they have opened one hotel every 6 and a half weeks.
180 direct jobs were created during the construction of the new hotel and going forward it will generate 25 direct jobs and 125 indirect jobs.
"In Colombia we hope to achieve the same level of acceptance as we have in Mexico given that we share similarities between both countries in addition to the number of travelers that visit Colombia to do business. As part of our expansion plan in the country, we are considering Bogota, Medellin, Barranquilla and Cartagena" Barrios concluded.
The hotel chain received support and advice from PROCOLOMBIA to choose this South American country to be their destination for their first foreign investment outside of Mexico.
"The personalized ad-hoc information that we provided City Express will continue to facilitate their expansion plans throughout the next Colombian cities. In the last three years due to the work done by PROCOLOMBIA, investors from nine different countries have begun 14 projects in 12 productive sectors in the Valle del Cauca totaling U.S. $ 727 million" said the president of PROCOLOMBIA, Maria Claudia Lacouture.
In addition Maria Eugenia Lloreda, the Executive Director of Invest Pacific highlighted that "within the framework of the Pacific Alliance it represents a strategic move for Valle del Cauca that a Mexican hotel opens in Cali, and moreover that it is their first property in South America. This attests to our region's potential for companies in the service industry. Furthermore, Hoteles City offers an innovative business model aimed at executives and industrial markets in development".
City Express Cali is located on 35th Street # 6N - 06 in the Santa Monica residential neighborhood, close to Chipichape Mall, 5 minutes away from the WTC Mall and 10 minutes from Granada. The hotel has 135 rooms that offer comfort, convenience and quality. Complimentary continental breakfast, high speed internet, courtesy transportation within a 10-mile radius, a business center, meeting rooms and a gym are some of the servicing trademarks of the hotel chain.
Cali is considered the fourth largest city in the country and the city that traditionally welcomes the largest number of foreign visitors. Between 2012 and 2013 the number of tourists rose from 112,278 to 124,358 according to the figures published by the Ministry of Commerce, Industry and Tourism and the Colombian Immigration Department. The highest surge in visitors has been driven by the segment of corporate events increasing the number of visitors from 7,614 in 2012 to 12,371 in 2013.
"The opening of the City Express Hotel in Cali, is a sign of tourism growth and the new competitive advantages the country has to offer" said Mayor Guerrero Velasco.
The event was also attended by representatives of leading travel agencies, chambers of commerce and presidents of national and international companies based in Colombia.
The success factor and key differentiator of Hoteles City is their focus on business travelers with limited budgets. In order to service this market segment, they have divided their hotel services into three different brands: City Express, City Suites and City Express Junior. It is also the first low cost hotel chain to introduce sustainable and environmentally friendly practices. They are also the first to obtain in Latin America the LEED -EB- O & M certification; a recognition given by the USGBC (U.S. Green Building Council) thanks to its hotels City Express in San Luis Potosi, Guadalajara and Irapuato. It also is the first company worldwide to receive the EDGE (Excellence in Design for Greater Efficiencies) certification awarding City Express Villahermosa this recognition sponsored by the IFC World Bank program for green buildings. Also, this year the Alliance for Water Sustainability in Tourism granted their hotels in Mexico City a hydro-sustainable recognition.
About Hoteles City
Hoteles City is the leading hotel chain in the category of affordable accommodations that is aimed at business travelers in Mexico. It features a Green Program that highlights an environmentally conscious program including: energy savings, water efficiency and waste management efforts. This resolve has made it the first chain in Latin America to achieve an LEED (Leadership in Energy and Environmental Design) certification issued by the USGBC (U.S. Green Building Council) and to become the first in the world to receive an EDGE certification granted by the IFC (International Finance Corporation) of the World Bank.
Hoteles City has modern operating systems and international telecommunications standards: A domestic and international reservations center and a customer loyalty program (frequent flyer incentives to travel agents and secretaries, commission payment packages, promotional and corporate sales).
It operates under three different brands:
- City Express, aimed at the business executive who requires a quality accommodation at a fair price.
- City Junior, aimed at travelers looking for an affordable, clean and convenient accommodation.
- City Suites, fully furnished apartments with hotel services aimed at business travelers that need to stay for extended periods of time due to their nature of work.
The main features of the Hoteles City are: new, modern and comfortable hotels that have sustainability programs. For more information visit: www.hotelescity.com and our Newsroom: www.hotelescity.com/saladeprensa
About Invest Pacific
Invest Pacific, is a public-private nonprofit organization that aims to attract foreign direct investment to Valle del Cauca, seeking to generate employment and sustainable development in the department. Additionally, Pacific Invest coordinates the Foreign Investment Committee that supports the needs of the 70 multinational companies and supports reinvestment projects they are in development stages.
About PROCOLOMBIA
PROCOLOMBIA is the government entity in charge of promoting non-mining exports, tourism, and foreign investment in Colombia. Through our network of national and international offices in more than 30 countries, we provide support and comprehensive advice to entrepreneurs, offering specialized services to improve their internationalization strategy and performance to create, develop, and close business opportunities.
Cosmetics and personal care
Information technology and creative industries