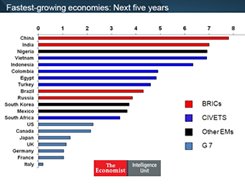 The Colombian Economy between the strong and the powerful: The Economist
The Intelligence Unit of The Economist, ranked Colombia in the group of 10 countries with the fastest prospect growth for the coming years at par with the Asian giants.
The report that analyzed the factors that will lead the economies to have the fastest worldwide prospect growth in the next five years, also highlights that Colombia will rank sixth among 20 countries with an annual average growth rate of 4.6 %, being surpassed only by China, India, Nigeria, Vietnam and Indonesia.
One of the most beneficial aspects of Colombia is the projection of population growth that will increase from 47 million to 50 million in the coming three years. The journal notes that having a young population segment will be an asset for businesses and will also help increase foreign investment in the nation.
The report "Diamonds in the rough: Unearthing opportunity in an uncertain world", describes the performance of the national economy as astounding for their continued advancement of the Gross Domestic Product, the boom in natural resources, respect for private property and intellectual property, trade integration processes and opportunities with the FTA, improvement in security and the overall peace process.
In the study, aspects taken into account were population size, diversified economies and not overly dependent on raw materials with favorable political prospects and macroeconomic strength.
In the profile that The Economist delineates about Colombia is the reduction in the rate of unemployment, the synergies they are attaining through the Pacific Alliance to increase trade relations with Asia, which are aligned with the FTA that is being negotiated with South Korea and the government plans to do the same with Japan.
"The main focus of the administration of Juan Manuel Santos is the promotion of foreign trade, creating jobs and improving the positive environment to attract foreign investment," reveals the report.
In terms of FDI forecast, it indicates that the country will maintain a prominent position among the nations with the most progress in the region in this regard it estimates that between 2014 and 2017 the GDP will grow at a rate of 4.6%.
The forecasts predict that between 2013 and 2017 Latin America will achieve an average annual growth of 4%, while Colombia will be in the group of countries with projections that exceed 4.7%.
The report also notes that the United States is on the path for job recovery while the boom of China is curbing and the risk of financial catastrophe is dissipating in Europe.
Cosmetics and personal care
Information technology and creative industries