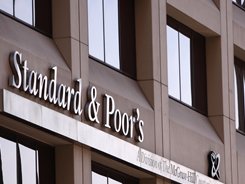 Standard & Poor's includes Colombia in the club of BBB rated countries
Standard & Poor's said the credit quality rating of the nation has been strengthening as a result of a stronger fiscal profile, growing domestic capital markets, favorable expectations of the gross domestic product growth in the long term and Government policies towards investment.
The agency stated that due to the evolution of these indicators, it increased the valuations of long and short-term foreign currency to 'BBB' and 'A-2' from 'BBB-' and 'A-3' respectively, which asserts an increase in the level of international credibility.
"We raised our long-term foreign currency rating because of the strengthening pillars underpinning Colombia's economy, which have reduced its vulnerability to external shocks and enhanced its capacity for stable long-term GDP growth " Standard & Poor's said in its statement.
In addition the agency highlighted the structural changes in fiscal policy such as the fund that was created to save the additional income from the commodities sector, the efforts to improve its debt profile and develop their domestic capital markets. For this reason, these measures have enhanced the ability to implement countercyclical fiscal and monetary policies.
Standard & Poor's expects that the level of public sector debt will remain low and it is likely to decline moderately over the next three years and estimates that the general government debt will shrink from 40% to 33% of the GDP. It also indicated, "It is likely that interest costs could consume less than 10% of general government revenue in the coming years and the FDI could fund the current-account deficits in the next two years, which would curb the external indebtedness".
Among the factors that have placed Colombia in the club of BBB rated countries are the confidence in its monetary policy; which have placed it on the radar of investment grade issuers ratifying the progress and consolidation achieved since 2011 when it achieved investment grade, and the steadfast positive outlook.
Likewise, the agency reports that the stable outlook is based on the expectation of continuity in proinvestor economic policies in the coming years.
During the past year, according to the Central Bank of Colombia, the arrival of foreign investment in 2012 reached the record level of U.S. $ 15.823 billion, 16.3 percent higher than 2011 when it closed at $ 13.605 billion, which has maintained a reduction in unemployment and in 2014 its network of free trade agreements will allow access to 1.500 billion consumers.
Cosmetics and personal care
Information technology and creative industries