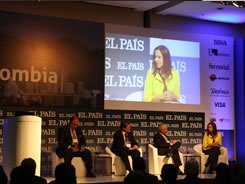 Spanish investors can consider Colombia an export platform
Bogota. Spanish investors will also benefit from the tariff reduction granted by the Free Trade Agreements entered into by Colombia, which will enable their access to markets at lower costs.
"As an export platform, Colombia offers Spanish entrepreneurs a large number of products and sectors where to invest. For example, 28% of the Spanish investment to the world is targeted at the textile sector, which is backed in our country by a tradition of over 100 years. While export tariffs from Spain to the United States may reach 34%, from Colombia, and after the deployment of the Free Trade Agreement, they would be able to enter at zero percent," explained by María Claudia Lacouture, President of PROCOLOMBIA Colombia.
This was her statement during the Invest in Colombia forum, organized by El País Journal, from Spain, supported by PROCOLOMBIA and with the attendance of 200 people. Other sectors that can be benefited by this phenomenon are metalworking, rubber, automotive, plastics, machinery and industrial equipment, construction, chemicals, electronic components and semi-conductors, in addition to coal, oil and gas.
PROCOLOMBIA has detected these investment opportunities, considering that the FTA eliminated the tariffs for said products which, if exported from Spain to the United States, will also have to pay tariffs which, in the case of metals, are 9%, 6.20% for plastics and 4.40% for machinery and industrial equipment.
In addition, logistics costs from Colombia to the United States are far lower than from Spain. "To ship a container from the port of Barcelona to Los Angeles takes 33 days, while doing from the Atlantic or the Pacific Coasts in our country it takes 17 days," added Lacouture.
Foreign Direct Investment from Spain in Colombia
According to the Central Bank, Spanish investment in Colombia in 2011 reached US$732 million. During the 2003-2011 period, 89 new Spanish-investment projects were registered, of which 20.22% targeted the BPO sector, 15.73% communications, 14.61% textile, 11.2% software and IT services, among others.
PROCOLOMBIA has also identified investment opportunities in the sectors of hotel and tourism infrastructure, BPO and IT services, textile and garments, telecommunications and financial services.
Well known Spanish brand names are present in Colombia in the various sectors, such as Movistar, BBVA, Mapfre, Prisa, Cepsa, Indra, Atento, Unisono, Onagrup, Hotusa, among others.
Cosmetics and personal care
Information technology and creative industries