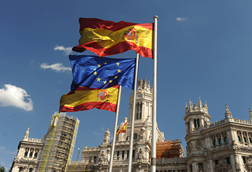 Spanish investment grows in Colombia
The Central Bank of Colombia reported that Spanish investments totaled US $ 2.154 billion in 2014; an increase of 126% over the previous year when it reached US $ 950 million primarily in the sectors of finance, BPO services, industry, transportation, trade and construction.
According to Gedeth Network, the company specialized in internationalization; the number of Spanish companies in Colombia has doubled in the past two years, from 160 in 2012 to over 400 in 2014. The top brands that decided to settle in the country due to its growing middle class, innovation, purchasing power and consumption include Telefónica, Blu Logistics, Seat, BBVA, Fenosa, Prisa, Axon, Iberostar, Mapfre, Telemark, Meliá and Atento.
"The development of Colombia caused a shift in the profile of the Spanish investor which before established in the country in order to provide services to Spain. Now, it is doing it to harness the Colombian market as a consumer, as well as considering it as an export platform to Europe, the U.S. and Latin America" said Francisco Garzón, delegate of the Spanish Institute for Foreign Trade - ICEX.
According to IE Business School, Colombia has done its job in analyzing other business sources and attracting capital from its industry and services in order to avoid relying solely on exports of mining and energy resources. Today the country is a strategic market for Spanish companies given its integration to the Pacific Alliance and because of its 3-fold growth rates compared to the average seen in Latin America and the Caribbean.
The Spanish Ministry of Foreign Affairs said that the main reason Spanish investors are flocking to Colombia -- aside from the ambitious infrastructure projects set by the Government like 4G highways that that will strengthen road connectivity -- is primarily because of its highly qualified human capital, strategic location and 13 trade agreements already in force, which enable the country to be an export platform towards other duty-free markets.
Cosmetics and personal care
Information technology and creative industries