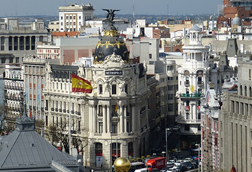 Spanish companies highlight Colombia as an investment destination
Economic stability and foreign investment opportunities make Colombia a good partner for Spanish companies.
According to the report "Spain-Colombia: a growing alliance", produced by the company Oportunidad Estratégica for the multinational company Kreab, the climate is business prone between Colombian and Spanish companies.
The report describes the positive performance of the Colombian economy, which has exceeded 4% growth annually for more than a decade. Colombia's economy is currently the fourth largest in the region.
The report emphasizes that investments by Spanish companies in Colombia between 2000 and 2014 totaled US$9.99 billion.
Spanish investors are interested in and have business in the South American country in the telecommunications, banking, insurance, media, engineering, and construction sectors. There is special attention on the 4G-highway project, the Colombian government's most ambitious infrastructure plan, with a budget of more than US$25 billion.
Cosmetics and personal care
Information technology and creative industries