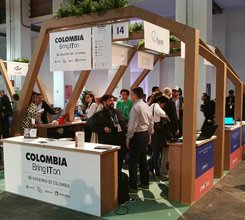 Six colombian startups that want to open up to the world
For six of the nearly 300 ventures present in 4YFN come from Colombia. This is a group of young local entrepreneurs who, accompanied by the Ministry of Information Technology and Communications and ProColombia - led by the Colombia Bring IT On initiative - are looking for potential investors and business relationships that allow their ventures to take a step More towards internationalization.
The list of Colombian enterprises in 4YFN is made up of the following companies: AbogadosYa, Go Cargo, Eventsite, Packen, Lysis and Fixiie. During our visit to 4YFN we had the opportunity to talk with some of these entrepreneurs, who told us more about their expectations and what they learned during the first two days of the fair.
For Cristian Becerra, founder and CEO of 'AbogadosYa', being in Barcelona for 4YFN has been an opportunity to move towards the internationalization of his company. Only on the first day of the event, this platform of legal consultations and legal services already established contacts for possible alliances with the 'Universidad de España'.
Additionally, 'AbogadosYa' will be one of the companies that will have the opportunity to socialize its business strategy with potential international investors during networking sessions organized by the event.
While the dream of most of these ventures is internationalization, many of these young entrepreneurs see this event as an opportunity to identify what their startups require to be strengthened locally. This is highlighted by the creators of 'Go Cargo', a company that is responsible for connecting the supply and demand of land transport in the country.
Born in 2015, 'Go Cargo' already has more than 1,000 transporters using the platform, which last year made more than 1,400 trips in Colombia. "While we want to 'eat the world', we know that the first step is to consolidate ourselves in the Colombian market", explains Diego de la Osa, one of the founders of the company, who emphasizes that because of the type of solutions offered by 'Go Cargo', Can adapt to the needs of different types of customers in many countries.
These six enterprises are joined by almost 30 Colombian companies that make their presence in the Mobile World Congress, which complete the Colombian ICT armada that is taken in Barcelona, ​​which in these days becomes the technological capital of the world.
Source: Colombia Bring IT On
Cosmetics and personal care
Information technology and creative industries