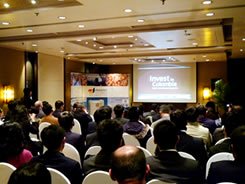 Seminars in Beijing and Seoul intended to displaying investment opportunities in Oil goods and services
Beijing, China; Seoul, Korea. This week, Chinese and Korean businessmen will learn about the Colombian Oil Industry's investment potential for companies from those countries, planning to establish their business and develop projects in the oil goods and services sector.
These seminars will be held simultaneously with the 2012 Tour by the National Hydrocarbons Agency (ANH), around seven countries in Europe, Asia, North and South America.
Recently, PROCOLOMBIA gathered 70 Chinese entrepreneurs in Beijing, where it presented the sector's features, investment opportunities, the participation of multinational companies and the active presence of Chinese companies in the country.
The National Hydrocarbons Agency, on the other hand, gave details regarding the country's situation in terms of its developments around security, government incentives, oil fields, contracts and forms of investment, and the demand for third-party services in the industry.
On March 29th it will be Seoul's turn; that country's entrepreneurs will learn about specific investment opportunities for Korea in the sector.
Through the simultaneous seminars taking place in Beijing, Toronto, Calgary, Houston and London, over 200 entrepreneurs were made aware of the possibilities they have of considering Colombia as their next investment destination.
Among the acknowledged multi-national companies present in the country, it is worth mentioning companies like Halliburton, Baker Hughes, Weatherford, Smith International, and Schlumberger Limited.
Cosmetics and personal care
Information technology and creative industries