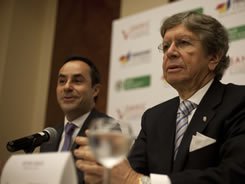 SAHIC makes a strong impression in Colombia and strengthens in the region
Bogota, Aug 21st. HVS South America -the world's leading consulting and services firm specialized in the hotel, real-estate, tourism, timeshare and leisure industry - together with PROCOLOMBIA -the Colombian entity that promotes tourism, foreign investment, and exports-, announced this morning the details of the 6th annual South American Hotel & Tourism Investment Conference (SAHIC), which will be held on September 23rd and 24th at the JW Marriot hotel in Bogota, Colombia.
A press release was held for local media, featuring Arturo Garcia Rosa, Chairman of HVS South America and President of SAHIC, and Juan Carlos Gonzalez, Vice-President of PROCOLOMBIA Colombia.  Within this event, both executives officially announced the Conference, which will gather more than 500 decision makers in the industry and grows stronger year after year as the appropriate place to learn about new business opportunities, start new customer relationships, and strengthen current business ties.
The gathering will follow a schedule consisting in general sessions, breakouts, and a section called "20/20 Showcase Your Project" –a special showcasing and networking section to hook up investors and projects. This part intends to be a platform to exhibit and present innovative ideas and interesting projects to develop in the many destinations throughout the region, creating possibilities and linking opportunities with interested investors.
"Every year, SAHIC features world-class speakers who know the market and have first-hand information that is relevant for investors and executives in the industry.This year we invited Thorsten Kirschke, President for the Americas at the Carlson Rezidor Hotel Group, to participate as key speaker during the event", stated Arturo Garcia Rosa during the presentation. "Without a doubt, this is one of the most anticipated sessions in the conference, as Kirschke will display his wide experience in the industry before attending entrepreneurs and investors, not to mention his vision for the development of new projects, scenario analysis, and the challenges in the region."
SAHIC is a great opportunity for PROCOLOMBIA, which brings the opportunity to consolidate Colombia as one of Latin America's key players regarding projects, investments, and new businesses, and as the best place to close deals and negotiations for the industry.
"Having the top hotel chain representatives visit Colombia who are looking for investment opportunities will have a chance to increase their share if they already have a presence in the country, or to raise awareness if they don't.Since August 2010, PROCOLOMBIA has supported 21 new hotel projects reaching 9 regions in Colombia. This is how we build a modern country", stated Maria Claudia Lacouture, President of PROCOLOMBIA Colombia.
Confirmed speakers include: Ted Middleton, Senior Vice President of Hotel Development & Finance in The Americas, Hilton Worldwide; Joel Eisemann, Chief Development Officer of The Americas, IHG - InterContinental Hotel Group; Roland de Bonadona, Chief Operating Officer for Latin America, Accor; Raul Gonzalez Neira, CEO of the FSA Group; Craig S. Smith, President of the Caribbean & Latin America, Marriott International; Pat McCudden, Senior Vice President for Real Estate & Development of Latin America, Global Hyatt Corporation; Alejandro Moreno, Director of New Business Brazil, RCI; Pierre Charalambides, Managing Partner of Dolphin Capital Partners; Mark Wynne Smith, Global CEO, Jones Lang LaSalle's Hotels & Hospitality Group; Jesus Ignacio Aranguren, Chief Strategy Officer, NH Hoteles; Luis Fernando Correa, President of Red Empresarial Luis F. Correa; Julian Botero Larranaga, Vice-President of Companies and Government for the Bogota and Central Areas, Bancolombia; and David Brillembour, Chairman & CEO, Brilla Group.
For more information, please visit www.sahic.com.
Cosmetics and personal care
Information technology and creative industries