Reasons to invest in Colombia: the most welcoming place for business
Having a general view of a country's conditions is an insightful, necessary step for any investor. Here is what you need to know to invest in Colombia, from the economic standpoint to the taxing backdrop. Take a look at these reasons to invest and find out why we call ourselves the most welcoming place for business.
Doing Business in Colombia
Colombia is one of the top 3 best countries to do business with in Latin América. Doing Business, 2020.
Considering the economic conditions as well as the regulations that allow or constrain business can be hard work, but some tools save time and effort to support your decision-making process. A well-known example is the Doing Business reports and rankings. This detailed research is a World Bank project that annually presents quantitative indicators to state the ease to do business in a country.
The report compiles the results on eleven indicators to better understand business regulation environments. According to the 2020 Doing Business report, Colombia is one of the top 3 best countries to do business with in Latin America. This means that the country's conditions are conducive for starting a business, finding a location, accessing finance, dealing with day-to-day operations and operating in a secure business environment.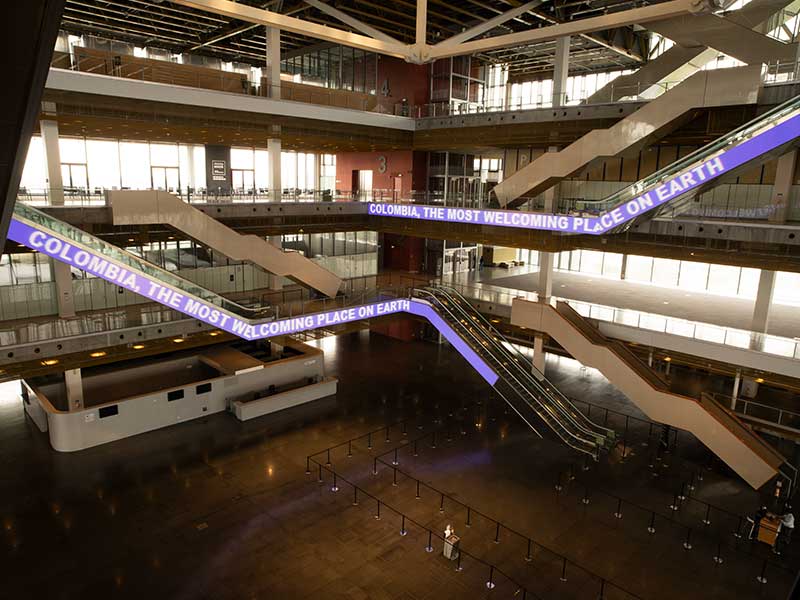 Colombians are building a business friendly environment to conduct business on different economic sectors. Here you can find the full Doing Business 2020 report.
Colombians are welcoming international investors to pursue business opportunities side by side.
A fast recovery economy
With several measures to mitigate the effects of pandemic, Colombia is one of the world economies with the greatest capacity to withstand the 2020 crisis. According to the International Monetary Fund, the country's economy would be the third-least affected economy in the region. A strong reason to consider establishing your company in Colombia since the estimated growth rounds 4.0 % and 4.5 % for 2021.
Colombia's economic recovery is pulled by its people. We hold a quick ability to stand before challenges and move forward as we stay open for business. This is the kind of attitude investors will encounter, and it is delightful to work with.
A strong set of tax incentives to promote foreign direct investment (FDI)
In Colombia, FDI is seen as a key to advance towards economic development, and it has been a cause for the government to continue paving a strong and attractive path towards it. Colombia is a welcoming country with a business environment including a set of incentives that softens the tax burden for a business that chooses to establish in Colombia.
Other benefits to keep in mind when considering investment opportunities in Colombia:
Preferential rates to investments contributing to reducing Ambiental impact. 
Tax exemptions to investments in diverse sectors like agricultural productivity, orange and creative industries, renewable electricity projects among others. 
A special tax regime for mega investment projects (above $298 million in 2021).
Find more benefits of investing in Colombia.
Colombia has the lowest FDI barriers within tax-friendly countries in Latin America.
Free trade agreements within a strategic location 
As many global supply chains are learning towards regionalization as a response to the pandemic, Colombia confirms that it's a strategic location within the Americas. From Colombia it is possible to reach America's main ports in a short time: New York, Los Angeles, Montreal, Vancouver, Callao and Valparaiso can be reached in days rather than months.
Beyond the port logistics, Colombia trade agreements connect a company with 60 countries and around 1.5 billion consumers. Regarding the United States, Colombia free trade agreement has the best access conditions opening up the world's largest importing market. This international trade system will increase the efficiency of different global supply chains.
There are even more reasons to invest in the most welcoming place. See Why Colombia to learn more about it.
RELATED ARTICLES
LEGAL GUIDE TO DO BUSINESS IN COLOMBIA
INVESTING IN COLOMBIA'S CREATIVE INDUSTRIES
WHAT ARE THE TAX BENEFITS OF INVESTING IN COLOMBIA?
Cosmetics and personal care
Information technology and creative industries