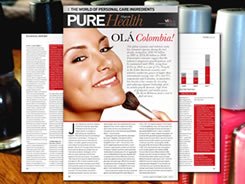 Pure Health Magazine Highlights Colombia as a Cosmetics Research Center
Pure Health Magazine, a prestigious British business magazine focusing in the personal care industry, claims that Colombia is a key country for research in this area thanks to its high production levels, the dynamic behavior of the sector, the chances of diversity development, and the easy access to several international markets.
The magazine, which reaches professionals in the development of chemicals for cosmetics, dermatologists, microbiologists, marketing experts, and industry leaders, states that Colombia is the fourth exporting country in the region for this industry, as it supplies the Andes and Central American markets, which is one of its major strengths.
One of its top stories points out that the industry creates 18,000 jobs, especially in Bogota, where 54% of the industry has been in the market for more than 20 years.
The article underlines the major transnational corporations in this field that have set up operations in the country, such as Kimberly-Clark, Belcorp, Henkel, Procter & Gamble, Avon, and Unilever, among others. 
The advantages Colombia presents to foreign investors looking for opportunities include: Adequate legislation, the pros of being an exporting platform, quality human resources, investment incentives, and the benefits of the duty-free zone framework.
"There is an outstanding legal environment for investment and development in the cosmetics and personal care sector. Companies have the chance to develop creative and innovative projects, but one of the greatest advantages is the chance to explore the natural ingredients market, which will allow the Colombian market to position itself as one of the strongest and obtain the fifth growth ranking for the region. This is why you cannot be left out from this country," asserts the magazine.
Pure Health Magazine states that one of the most attractive factors for foreign investors in the cosmetics industry is the chance of diversity development. Actually, the government plans to drive development in biotechnology, so that Colombia becomes a leader by 2032 in development, production, commercialization, and export of products with a high added value derived from the sustainable use of biodiversity.
According to PROCOLOMBIA, there are opportunities in Medellin for the development of biosupplies and natural ingredients. Cali offers the potential for new product development in food, cosmetics, and industry from biological resources.
Also, the regions of Caldas, Risaralda, and Quindio have the potential to develop agricultural and industrial biotechnology. Bogota nurtures a wide array of alternatives in biotechnology development for agricultural products, diagnostic tests, cosmetics, biopackaging, and clean energy. Finally, the chances in Bucaramanga exist to develop natural ingredients.
Investors have been the key to position Colombia in the cosmetics and toiletries market, including: Belcorp, Procter & Gamble, Unilever, Henkel, Yanbal, Avon, Unilever, Johnson & Johnson, Familia-Sancela, and Kimberly-Clark.
 Read the full article here: http://issuu.com/via-media/docs/phm_fm_2013_digi?mode=window
Cosmetics and personal care
Information technology and creative industries