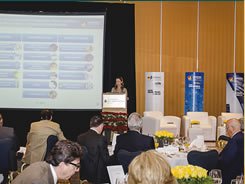 PROCOLOMBIA Will Present Investment Opportunities to 50 Mexican Entrepreneurs
 During the "Colombia as an Investment Destination" seminar, Maria Claudia Lacouture, President of PROCOLOMBIA, will present the country's competitive advantages for new investments.
During the last decade, Mexico has spent $3.3 billion USD in Colombia as Foreign Direct Investment.
The most attractive sectors for Mexican companies are: construction materials, telecommunications, agribusiness, and services like software and BPO.   
April 3rd, Mexico City. Next Monday, on April 7th, PROCOLOMBIA will hold the "Colombia as an Investment Destination" seminar, where Mexican investors will learn about the economy's competitive advantages, incentives, investment opportunities, and the potential to strengthen integration with the Pacific Alliance.
"Colombia is Mexico's entryway into the rest of Latin America. Colombia's privileged location offers competitive costs and shipping times to Mexican companies interested in leveraging the country as an exporting platform with easy access to the region's market of 350 million consumers," highlighted Maria Claudia Lacouture, President of PROCOLOMBIA Colombia.
PROCOLOMBIA will also show the opportunities identified among the member countries of the Pacific Alliance to create supply chains. For example, raw materials and intermediate goods can be imported in Mexico, while the production of final goods can take place in Colombia and later shipped to tertiary markets like Asia.
Along the event, a panel will be held with the participation of Ricardo Salinas Pliego, President of Grupo Salinas,Luis Genaro Borrego Estrada, Managing Director of Corporate Affairs in FEMSA, and Rafael Nava, Vice-president of Governmental Affairs in MABE, who will share their business experience in Colombia.
Mexico considers Colombia as a country with opportunities in order to foster relationships that allow both nations to grow capital as they both have similarities in trade and in product consumption.
According to the Central Bank of Colombia, Mexico is the eighth source of Foreign Direct Investment into Colombia. In 2003, this country invested $27.4 million USD, and this amount reached $530 million USD in 2013, meaning that during the last decade the flow of capital multiplied 19 times its size.
The Mexican companies that have recently arrived in Colombia include City Express, which opened their first hotel in South America in the city of Cali with 135 rooms. They have plans to expand into Bogota, Medellin, and Barranquilla.
Meanwhile, FEMSA started the construction of its most modern plant in Latin America in late 2013 located in a free trade zone near Bogota.
Grupo Salinas is known in the telecommunications sector and in 2012 they won the bid for Colombia's national plan to lay fiber optics, which will connect all the municipalities in the country.
-oOo-
PROCOLOMBIA is the government entity in charge of attracting foreign direct investment, fostering non-mining and non-energy exports, and promoting the country as an international tourism destination.
It offers entrepreneurs comprehensive support and expert advice through its domestic and international branch offices in more than 30 countries worldwide, providing services and means aimed at facilitating the design and implementation of their internationalization strategy in order to create, develop and consolidate business opportunities.
Cosmetics and personal care
Information technology and creative industries