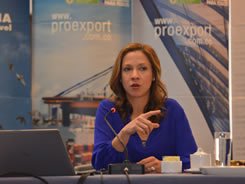 PROCOLOMBIA: Foreign Investors Estimate 63,103 New Jobs in Sectors Other Than Mining and Oil
Bogota, Dec. 17th (Pxp) – Between August 2010 and October 2013, PROCOLOMBIA has endeavored to start 239 new businesses with foreign capital that translate into $6.6 billion USD worth of investments. Although 7,846 new jobs were reported in 2010 across 11 departments, the expectations of all three years exceed 63,103 new jobs estimated across 20 regions.
Among all projects, 128 come from investment services for $2.3 billion USD, which will create 77.3% of the total jobs in areas such as tourism infrastructure, investment funds, retail, engineering and construction services, insurance and financial services, business process outsourcing, telecommunications, electric power and its related goods and services, software and information technologies, hotel infrastructure, logistics, real estate, health, and audiovisual services.
In second place, $3.9 billion USD will be allocated to 94 projects in manufacturing areas in existence since 2010 in the country, corresponding to 18% of new jobs focused on the metalworking and steel, construction materials, cosmetics and toiletries, auto-parts and vehicle industry, instruments and devices, pharmaceutical, chemicals, plastic and rubber, household products, office, hotel, hospital and industrial, fashion, furniture and wood sectors.
In third place, there are 9 projects for oil goods and services representing 3% of new jobs, which will add value to the production line and the supply chain. Reported investment commitments amount to $340 million USD.
In fourth place, 8 investments in agriculture represent 2% of total jobs, spread across subsectors like palm, oil, vegetable fats and biofuels, woodlands, fruits and vegetable produce, dairy, cereals, grains and their derivatives, and agrochemicals. The estimated investment amount is $140 million USD.
Actually, of all the new projects arriving since 2010 to date, 31% belong to the Productive Transformation Program (PTP), with a committed amount of $1.79 billion USD, that is, 27% of the total, and is expected to create 22,974 new jobs.
Development for the Whole Country
A total of 20 departments, -62% of the national territory-, have been chosen by international companies to consolidate opportunities in line with PROCOLOMBIA's strategy to spread the benefits of new capitals throughout more destinations.
"11 Colombian regions, including Boyaca, Casanare, Cesar, Choco, Cordoba, La Guajira, Meta, Norte de Santander, San Andres, Sucre, and Vichada received foreign direct investment for the first time thanks to the efforts undertaken by PROCOLOMBIA during the last three years. Around 4,555 new jobs are estimated for this part of the country," stated Maria Claudia Lacouture, President of PROCOLOMBIA Colombia.
According to fDi Markets data for the last three years, the city of Bogota leads the foreign resource entry indicator with 32%, followed by Atlantico with 10%, Antioquia with 6%, Valle del Cauca with 4%, Bolivar with 3%, Cundinamarca and Santander with 2% each, Magdalena with 1%, and 40% spread among others.
Colombia Remains on the Investors' Radars
Between August 2010 and October 2013, 199 investors from 27 countries supported by PROCOLOMBIA chose the country as a destination to engage in business, and the following 14 countries invested in Colombia for the first time: Germany, Portugal, France, Puerto Rico, Switzerland, South Korea, United Arab Emirates, Israel, Japan, New Zealand, Belgium, Czech Republic, Singapore, and Guatemala.
The group is rounded by countries that are a regular resource supplier into Colombia: United States, Spain, Canada, United Kingdom, Chile, India, Argentina, Brazil, China, and Mexico, among others.
During the last three years, PROCOLOMBIA has identified 1,393 new investment opportunities from 1,199 potential investors in 57 countries, 17 of which are new markets and 61 include sectors with high job creation potential. In addition, 392 seminars have been held in 39 countries.
According to the Central Bank of Colombia, investment in non-mining, non-energy fields accrued for the last three years amounts to 19.4 billion USD, mainly in the manufacturing, transportation, storage and communications, trade, restaurants and hotels sectors.
Some success stories of transnational corporations supported by PROCOLOMBIA to consolidate business opportunities in the country include: Furukawa from Japan, which is building in Palmira the first and only fiber optic cable manufacturing plant; Portugal's Prebuild, a construction materials plant in Cundinamarca; new hotels in Cali from Mexico's City Express chain; the expansion of Intercontinental Hotels in Cucuta, Bucaramanga, Cartagena, and Barranquilla, among others; the arrival of service transnationals such as AIG from United States, BlackBerry from Canada, Arvato and Indra from Spain, Genpact from India, the new Jeronimo Martins supermarkets in the Coffee Cultural Landscape and Valle del Cauca, among others.
Success stories of foreign companies that have arrived in the country with the support of PROCOLOMBIA:
Year
Company
Country
Region
Description

Manufacturing Sector

2013

Furukawa

Japan

Valle del Cauca - Palmira

The construction of a fiber optic cable manufacturing plant was announced in 2013, and will set up shop in the Pacific Free Trade Zone, located in the municipality of Palmira, Valle del Cauca. This plant will be the first of its kind in the Andean region, and the third in South America from this Japanese company.

2012

Prebuild

Portugal

Cundinamarca – Gachancipa

Together with a Colombian business group, this company will build an 11-plant industrial complex in Gachancipa as a Free Trade Zone to develop a cluster of construction supply manufacturing companies.

2011

Unilever

United Kingdom

Valle del Cauca - Palmira

The construction of a detergents plant in Palmira was announced, and will be one of the most modern in the world.

2011

Kimberly Clark

United States

Antioquia - Rionegro

One of their three global innovation centers.

Services Sector

2013

AIG

United States

Cundinamarca -  Bogota

Montaje h:205.55pt;border-top:none;border-left:none;border-bottom:solid windowtext 1.0pt;border-right:solid windowtext 1.0pt;padding:0cm 3.5pt 0cm 3.5pt;height:57.6pt">
Setting up a Shared Service Center for Chartis-AIG to address policy claims and consolidation processes in Latin America.

2013

BlackBerry

Canada

Cundinamarca -  Bogota

The world leader in mobile solution innovations opened a technology center within the MoviInnova Lab Technology Center, which will provide training for students and developers interested in creating mobile apps for different platforms. Within the center, new business opportunities can arise to develop entrepreneurship projects.

2013

Globant

Argentina

Antioquia - Medellin and Cundinamarca - Bogota

Setting up a Software Development and ITO Center, first in the city of Bogota in 2011, and then in 2013 expanding into Medellin (Confidential).

2013

Sykes

United States

Atlantico - Barranquilla

Setting up a Level 1, 2, and 3 Help Desk to support their main technology client in the U.S.A. Their clients include many companies listed in Fortune 1000.

2013

Intercontinental Hotels

United States

Norte de Santander - Cucuta

Holiday Inn Cucuta is a project mixing offices, a shopping mall, and a 98-room hotel and complementary services.

2013

Intercontinental Hotels

United States

Santander - Bucaramanga

Holiday Inn Bucaramanga has 180 rooms and a conference hall with capacity for 600 attendants.

2013

Intercontinental Hotels

United States

Cundinamarca- Bogota, Bolivar - Cartagena, Atlantico - Barranquilla

Holiday Inn Express in Bogota, Cartagena, and Barranquilla provides a total of 450 rooms.

2012

Jeronimo Martins

Portugal

Risaralda: Pereira, Dosquebradas, and Santa Rosa de Cabal.
Caldas: Manizales, Villa Maria, and Chinchina.
Quindio: Armenia
Valle del Cauca: Zarzal, Buga, Tulua, and Cartago.

It began operations in 2013 with supermarkets in the Coffee Cultural Landscape; it is the first investment this financial group makes in the Americas. It currently has 3 stores in Risaralda, including operations in their distribution center, 3 stores in Caldas, 2 in Quindio, and 5 more in Valle del Cauca.

2012

Indra

Spain

Risaralda - Pereira

Setting up a Software factory to serve clients in the Financial and Public Services industries in Colombia and Spain.

2012

Arvato

Spain

Santander - Bucaramanga

Setting up a Spanish-language Call Center to serve their technological client in Spain.

2012

Marriot

United States

Valle del Cauca – Cali

Marriot Hotel in Cali in the Granada neighborhood, with 170 rooms, a restaurant, event halls, and spa.

2011

City Express

Mexico

Cundinamarca - Bogota, Valle del Cauca - Cali, Atlantico - Barranquilla, Santander - Bucaramanga, Antioquia – Medellin.

Limited Services hotels. Their first project in Cali will have 127 rooms.

2011

Genpact

India

Cundinamarca – Bogota

Setting up a Delivery Center for outsourced value-added processes focusing on Finances and Accounting.

2011

Intercontinental Hotels

United States

Bolivar - Cartagena

Cartagena's Intercontinental Hotel in the NAO Fun + Shopping project, which will include a convention center, international casino, food court, apartments, and offices.

2010

Starwood

United States

Bolivar - Cartagena

Sheraton Cartagena

2010

VSI Nearshore Outsourcing

United States

Atlantico - Barranquilla

Setting up operations to develop Software and render BPO services serving clients in United States and Europe.

2010

Hyatt

Mexico

Cundinamarca – Bogota

Grand Hyatt Bogota will have 297 rooms.

Agribusiness Sector

2013

Dole

Chile

Cundinamarca - Madrid

The top fruit commercialization transnational announced in 2013 that they will invest $18 million USD in a processing plant in Madrid (Cundinamarca), which will begin operations in May 2014. The nearly 430,556-sq.ft. complex will produce pre-prepared fruits and vegetables (that is, sanitized, chopped, packaged and long-lasting products ready to eat).

2012

Dairy Solutionz

New Zealand

Meta - Puerto Gaitan

Since 2012 an agribusiness project is under joint development with a local partner in the Meta department, consisting in integrating the entire productive chain with genetic improvement, cattle development, grazing, and milk commercialization.

 
Cosmetics and personal care
Information technology and creative industries