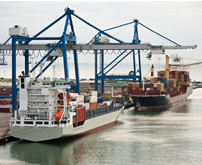 PROCOLOMBIA Brought 62 New Investment Projects in 2014
A new foreign direct investment (FDI) website promoted by PROCOLOMBIA was launched in 2014, featuring 62 new projects that represent an 11% increase compared to 2013.
The investments came from Germany, Portugal, The United Kingdom, India, The United States, Spain, Canada, Guatemala, Costa Rica, Peru, Denmark, and Uruguay, among others and, according to foreign entrepreneurs' reports, it is expected that these investments will create 41,200 jobs.
According to PROCOLOMBIA, 34 of the initiatives promoted last year are related to services in the BPO, tourism, finance, and software sub-sectors; 18 of these correspond to manufacturing processes of construction materials, metal-working, car assembly, and instruments and devices; and 10 of these were aimed at agribusiness activities.
"We promote Colombia to lure more and more investors to trust our country. These 62 new projects will help improve the domestic industry, fostering technological and knowledge transfer, regional development, and creating high-quality jobs," stated Maria Claudia Lacouture, President of PROCOLOMBIA.
Region Development: Cauca and Nariño, the New Destinations
Foreign investment promoted by PROCOLOMBIA in 2014 targeted 20 cities in the departments of Antioquia, Bolivar, Atlantico, Cauca, Cesar, Magdalena, Meta, Nariño, Cundinamarca, and Valle del Cauca.
Nariño and Cauca welcomed FDI for the first time, including projects that bet on local development and job creation.
Pasto will serve as the home office for a securities company with investments by a business group in Guatemala and operations through branches in different capital cities in Colombia's southwest.
Popayan has new BPO operations, funded by Mexican capital, which will provide automation and intercommunication solutions geared towards regional health systems.
For its part, the municipality of Villa Rica will be home to the second motorcycle manufacturing plant by Indian company Hero MotoCorp. This multinational will employ workers in the region, who will receive training in mechanics, maintenance, and engine assembly.
New hotel projects including American and Chilean chains like Hyatt, Hilton, and Atton, among others, will support holiday and business accommodation choices in Bogota, Cartagena, Medellin, and Santa Marta.
Also, among this year's new countries listing Colombia in their investment portfolio are Denmark, Costa Rica, Peru, and Uruguay, the latter of which is launching a project in Valle del Cauca, to be established as the main service-driven Free Trade Zone in the western region of Colombia.
Cosmetics and personal care
Information technology and creative industries