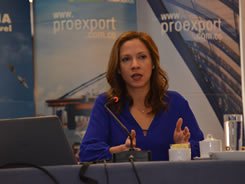 PROCOLOMBIA breaks a record in attracting foreign investment during 2013
Bogota Jan 16 (Pxp) – During 2013, PROCOLOMBIA enabled the arrival of 73 investment projects from 20 different countries representing $ 2.391 billion in new business opportunities. This is the highest figure the entity has achieved in its history.
"We achieved an 11% growth over the 65 projects that we brought during 2012. According to investors the impact on employment will be significant because it will generate 26,232 new jobs; 9% higher than the previous year; ", stated the president of PROCOLOMBIA, Maria Claudia Lacouture.
Lacouture also added that 13 of the initiatives are related to manufacturing. This is the leading industry where most of the resources are being directed in Colombia totaling U.S. $ 455.9 million which are estimated to generate 1,845 new jobs. The Services sector is also forecasting 18,090 new jobs and investment expectations for U.S. $ 147.6 million coming from 19 different businesses.
Regional Development
International entrepreneurs expressed interest in being able to settle across 15 departments which cover 47% of the national territory. Remarkably, in 2013 a Turkish firm arrived in Cucuta to transform the industry of goods and services into electrical energy. Likewise, there are other projects that are underway in Cali from companies flocking from Puerto Rico and the United States. Like so, other companies from Germany and the United States that specialize in forestry matters have arrived in Bolivar and Barranquilla.
There is also a great interest towards the agribusiness sector. Companies from Argentina and the UK are focusing on Villavicencio and Vichada looking to grow cereals, grains and its derivatives. Meanwhile Dole's frozen vegetables sold in Colombia and abroad will be grown and processed domestically in Cundinamarca.
With the use of investment capital from Argentina, a plant to source the auto parts industry will be built in Pereira. Meanwhile, in Bogota a French company is investing to develop cosmetics and toiletries. In Cali and Tocancipa packaging is being made for companies located in Mexico and the United States.
In those sectors where human capital is also prevalent are Business Process Outsourcing (BPO) services, Information Technology (IT), development of tailor-made software, audiovisual and telecommunications. During 2013, international companies settled in Medellin, Pereira, Bogota, Barranquilla and Manizales. Some of the companies which invested in this segment are: Globant, Sykes, AIG, Grupo Contax, Grupo MSH, among others.
According to the 2013 version of the ranking disclosed by the Latin American Private Equity & Venture Capital Association (LAVCA), Colombia remains in fourth place among 12 countries in Latin America and the Caribbean due in part to its favorable conditions to foster the industry of private equity funds. This was one of the most prevalent reasons why Swiss, U.S. and Canadian investment funds have gained interest in the hotel infrastructure and business financing, among other reasons.
The announcement in 2013 of the arrival of new hotels such as Intercontinental from the U.S., Iberostar from Spain and Grupo Poma from El Salvador will provide Cucuta, Bucaramanga, Bogota, Cartagena, Barranquilla, Santa Marta and Cali new hotel rooms.
Specialized oil goods and services entrepreneurs from Japan, China, Canada and the United States are focusing in Bogota, Villavicencio and San Onofre.
Domestic Overview
According to the Central Bank of Colombia's Balance of Payments, between January and September 2013 the country attracted U.S. $13.251 billion, equivalent to 4.9% of the GDP. In addition, the data represented 13.1% (U.S. $ 1.537 billion) higher than the same period in 2012.
At a sectorial level, 51.5% of Foreign Direct Investment (FDI) in Colombia was directed to productive sectors distributed as follows: manufacturing (15.5%), transportation and communications (11.5%) financial institutions (8.5%), commerce, restaurants and hotels (8.5%), electricity, gas and water (2.9%), community services (2%), construction (1.5%), agriculture, hunting, forestry and fishing (1.1%).
The arrival of investment to different mining and oil sectors reached U.S. $ 3.961 billion in 2010, U.S. $ 8.344 billion in 2011, and U.S. $ 10.261 billion in 2012. 2013 September YTD data shows investments reached U.S. $ 9.122 billion.
Cosmetics and personal care
Information technology and creative industries