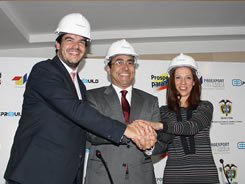 Prebuild from Portugal announces investments for USD 250 Million and one thousand new jobs in Colombia
Bogota, D.C., July 19th, 2012 - Today, the Ministry of Trade, Industry and Tourism announced the commencement of operations in Colombia of Portuguese multinational company Prebuild, a leader in the construction industry, with an industrial township near Bogotá, where it will invest USD$ 250 million and will generate around one thousand jobs.
It's our pleasure to confirm, once again, that Colombia is an appealing destination for large companies around the world", stated Minister Sergio Díaz - Granados, who stressed that this shows the dynamics that are present in foreign direct investment, in the industries that most contribute to job generation.
This company, that arrived with the support of the Ministry of Trade, Industry and Tourism, will begin the construction of this project in September 2012, and at that point it will not only begin to manage its own operation in Latin America, but will also export to other markets with which the country has signed Free Trade Agreements.
Colombia has different appealing factors for foreign investment, and FTA's are one of them. We have large scale exports to USA and Canada, and we wish to transfer part of that production from Portugal to the American market through Colombia", mentioned Pedro Vargas, CEO of Prebuild in the country.
The director added that the agreements of the country with Peru, Chile, Mexico and the European Union;    "are very important within our business strategy", and highlighted strategic location, legal security, proper business environment, competitiveness in labor, potential for the construction business' development, and tax advantages for investment in free trade zones; as decisive factors when deciding on their location in Colombia.
In the industrial township, Prebuild will have 11 plants with different construction materials, such as windows, doors, floors, drywall, mortars, kitchens and office furniture among others, which are expected to be traded from the first quarter of 2014.
On the other hand, the chairwoman of PROCOLOMBIA, María Claudia Lacouture, stated that "the construction material sector is one that we've identified as potential for the investment of Portugal towards Colombia", although she also mentioned the opportunities in industries such as autoparts, pharmaceuticals, agro-industry and hotel infrastructure, software and IT services, and energy.
It is worth mentioning that Prebuild is a group of 34 companies that operate in construction, industry and services in the entire construction cycle. It has factories in Spain, Portugal, France and Angola - from where it exports to over 50 countries - , while its staff is of over 4,800 employees around the world.
This announcement of Prebuild makes us want to continue promoting Colombia as an attractive destination for foreign direct investment", highlighted Minister Díaz - Granados, when mentioning that up until June, approximately USD $9.33 billion had entered the country under this concept, and that the goal for this year was of USD $15 billion.
Based on information from the Ministry of Trade, Industry and Tourism.
Cosmetics and personal care
Information technology and creative industries