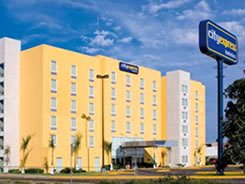 Mexican Hotel Chain City Express arrives in Colombia
Bogota. Hotel Chain City Express from Mexico, one of the most important in the corporate sector in that country, will arrive in Colombia to offer a new option for business travelers seeking to stay in quality lodging facilities, and wanting the best possible value/price ratio during their stay.
"We spotted an opportunity in Colombia through the introduction of City Express as a service targeting the business travelers who have more budget restrictions, without sacrificing their high quality standards and offering excellent supplementary services adjusted to the needs of the users at a more accessible price," said Luis Barrios, Director General of the Company.
Barrios added that the decision to invest in the Colombian hotel sector is due to the fact that the country enjoys a series of favorable conditions for the growth of the brand, above other countries in the region, including the size of the market and the strengthening of the Colombian economy, which has "proven stability in comparison with other markets," which has consolidated investment in Colombia as a more attractive option.
The plan for the hotel in Cali, which is close to starting its construction once the permits and licenses phase is over, is to be equipped with 127 rooms, while the Bogotá plan is still underway to determine its capacity.
City Express came to the country thanks to PROCOLOMBIA's efforts, who initially contacted the company in Mexico to introduce the investment opportunities in the sector. From that moment on, the company conducted the activities targeted at establishing their operations in the country.
During the past years, investment in the hotel sector has grown thanks to the arrival of well known brands like Marriott, Holiday Inn, Hilton, NH, Accor (Ibis) and Holiday Inn Express.
Cosmetics and personal care
Information technology and creative industries