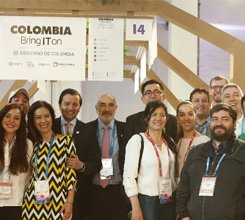 Meet the 26 colombian companies of the mobile world congress
This group of companies is characterized by being diverse in offering products and services in the technological world to meet the needs of large and small companies in innovation, improvement, finding new suppliers, optimizing human talent, among others.
Exsis is a company that provides software solutions as required by the client. This service is provided by professionals specialized in the Information technology sector, with the main objective being to satisfy the needs and expectations in an integral and complete way. In addition it counts on advisory services in the stages of management, analysis, development, implementation and support of the acquired software. This service adheres to the mobile solutions, which generate mobile applications of value for companies and their productivity.
NativApps offers innovative solutions in web, software and mobile development. With a wide range of tools and services help companies migrate their applications to the new mobile environment, plus the development of new applications that contribute to meet the needs of businesses. In their work team they have experienced developers in HTML5, CSS, JavaScript, iOS and Android operating systems, among other processes.
Integra IT uses technological innovation so that access and monitoring of clinical information on epidemiological projects and patients is safe and timely. It is focused on cloud storage to enable its customers to be more effective and efficient in the pharmaceutical industry, clinical vaccine development and clinical research. Its two lines of business are: real-time management of patients' status through web softwate, and implementation of mobile applications to collect data on symptoms, use of medications, emergency care on a regular basis, among others.
Ingeneo S.A.S. provide state-of-the-art IT engineering products and services to support processes and decision-making. They combine technical, creative and solution skills in application development, specification design and IT consulting. They focus on sectors such as banking, insurance, manufacturing, retail, BPO, outsourcing, consulting and training.
Site S.A.S. With Information Technologiesv IT adopting, adapting and integrating software, hardware and engineering components technologies for the development of the public passenger land transport sector, generating an impact through innovation in products, services, processes, marketing and methods of organization.
Sigma Ingeniería provides technological solutions for the optimization of the decision making process in public and private companies through the geographic information and management system to reduce the time and resources in the process of explaining the business model of its clients. They are also responsible for reducing resistance to change and guarantee the return of investment in technology made by one of its customers.
Optima Consulting is a technological company that provides consultancy services and improvement of databases and performance applications. Through an analysis, they identify the problems to implement corrective actions, characteristic to which the recommendations to the area of ​​the information technologies IT as a daily strategy for the correct development of the processes of the client are united.
Password is focused on information security. It is in charge of identifying, evaluating and mitigating the risks to which the information of the companies is exposed. Its action plan is divided into security services such as vulnerability analysis, safety training, diagnostic consultancy, risk assessments, safety models and auditing; And finally consulting services for Strategic ICT Plans, Personal Data Protection Law, among others.
Nexura, through the development of software and web solutions, helps governments to offer better services to their citizens through the online government model on SharePoint, Java or PHP platforms with the objective of supporting the implementation of public service websites, Online and electronic payments.
Virtual Diseño has strong networks in the business and government sector and has developed projects for the health, tourism, logistics and manufacturing sectors. The problem that has most frequently been faced is the finding of simple solutions and coordination of resources to create proposals of high value in the ecosystems of companies.
Adsmovil offers global mobile advertising solutions through new technologies such as display, video, rich media, advertisements, geolocation, data programming and optimization of creative dynamics. It has a presence in Brazil, Mexico, Colombia, Argentina and the United States.
Aldeamo is a company that is in love with what technology can achieve to improve people's lives and the future of companies. They have offices in 11 Latin American countries and work with 25 mobile operators, generating more than 120 million contacts between companies and people by text message, electronic mail and voice calls for companies to increase their sales, improve their services and reduce costs.
Iconoi have three lines of business to improve business productivity: custom development, computer consulting and database tuning. The first consists of an interdisciplinary group of experts for the projects of insurance companies, human resources, among others. The second gives you the design and implementation of technology solutions, while the third provides tools to simplify the management of your databases.
Codyd builds relationships of trust between brands and markets through strategies with brand positioning content and satisfaction level improvement. Its services are: multichannel marketing, digital strategies, retention and data, graphic design and data analysis.
Brand Studio helps companies become an agent of change through sensitization and humanization to make a call to action. It has offices in Colombia, Panama and Spain, and through its group of creatives, designers and photographers deliver messages through creative content through different means to position the brands.
Vasco Solutions improves the presence of companies on the internet, starting with the system of hosting information, web design and SEO positioning. It also develops mobile applications for Android and iOS systems, hybrid with native HTML5 and custom web software. However, it also has presence in the market of distributors of SSL, Geotrust and Thawte servers, which is complemented by its advisory and consultancy service in computer security, cybernetics and antimalware.
Higuera Studios develops interactive applications in high-end 3D, video games, advertising applications, web applications, mixed with high-end photography, video and audio. His team is defined as a group of services that combine the experience of advertising, innovation, aesthetics, image care and changing technology to achieve a unique result for our customers. Its technology is made up of 3D engines, CMS, databases, digital photography, video, among others.
Mensajeros Urbanos allows to carry out the live monitoring of the position of the messenger at all times while doing a domicile or diligence. According to its characteristics, this system has total availability, geolocation to know the location and exact value of the service, and an easy payment system with cash or payments online.
TechniSupport has services of software development, creation of projects tailored to the needs of companies, sale of software and development of web platforms for business ventures. Its process is to identify the need of the company, design and develop the solutions and then implement them and provide a continuous support to ensure its operation. The technology they use is PHP, Java, .Net, Javascript, React, Objective C and Swift.
Infocase is responsible for the development, appropriation and use of information and communication technologies in micro, small, medium and big companies. At the same time it supports the processes of research and technological development and strengthening of different sectors of the regional economies. Its products are made up of consultancies, outsourcing, analysis and study of systems for its optimization and administration of hardware and software products, as well as the purchase, sale and rent of own software.
Compunet believes that transformation is an engine to make a difference, as they integrate technology as a tool to facilitate business processes. And this is achieved through the installation of world-class providers such as SAP, HPE and Zebra. Its problem-solving lines are thanks to 'Teaté' and 'mySiss', collaborative logistics and digital optimization platforms to transform the supply chain of the traditional channel. In addition, they have the integral and integrative solution of the information technology for the ambulatory and hospital management centered in the attention of patients and growth of the health providers.
GreenCode with its vision to provide solutions that save time and money, optimize processes, be fast, comfortable, easy to use and eliminate pollutants, have created 'Ticketcode' for selling electronic ballots, 'Paycode' for online payments and presence and 'Giftcode' to send gift cards to the cell phone of anyone in Colombia.
Servinformación offers solutions for the analysis, design and development of Geographic Information Systems, which is made up of 214 land maps, 491 vector maps and vector georeferencing. It has availability for 900 colombian municipalities that enjoy the company's different lines of business focused on data quality, georeferencing and validation of addresses, censuses, route optimization solutions, real-time mobile resource programming, vehicle tracking and people, web and mobile application development.
Quipux has been in the market for 21 years and specializes in creating solutions for government in the areas of information technology and outsourcing of office services such as vehicles, drivers and public transportation. They are currently present in Colombia, Brazil and Ivory Coast, while continuing to explore markets in Latin America and Africa.
Satelco is a Colombian telecommunications company that focuses on advertising on social networks and corporate messaging platforms via text message. In advertising they provide the tools for visualization and development of 3D parts as well as systems development that fit the needs of the client. As for corporate messaging they develop an application (desktop, web or managed mail) of text messages for efficient communication in companies.
Azlogica is a platform that generates technological solutions for the sectors of government, insurers, ports and concessions, mining and hydrocarbons, agriculture and transport. This company was born from the need to apply the telematics to the measure of each client, allowing them to monitor and manage their assets in a robust, scalable and flexible way. They have co-created solutions such as Pay As You Drive, ECODRIVE, Team Manager, Evolution, AZBEACONS and AZFLEET.
Source: Colombia Bring IT On
Cosmetics and personal care
Information technology and creative industries