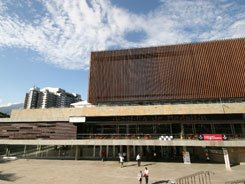 Medellin Will Host the 2015 Tourism World Organization's General Assembly
Hospitality and tourism infrastructure
The Ministry of Trade, Industry and Tourism remarked that being the host and becoming the regional president are major milestones, as the country will gain a high position among the 156 member countries in the organization. This will also allow for international promotion and creation of new jobs in tourism in the cities the delegates will visit.
The 21st Tourism World Organization's General Assembly in 2015 will receive at least 3,000 foreign visitors, including tourism journalists, who will learn about Medellin and may visit other Colombian regions.
Also, attaining the Presidency of the Commission of the Americas and the appointment of Colombia as the host of the group's meeting in 2014 will encourage delegates from Latin America to discuss the consolidation of tourism in the region and to formulate strategies to foster the mutual flow of tourists across neighboring nations.
This increased number of tourist arrivals would then drive foreign direct investment opportunities in hotel projects. PROCOLOMBIA has identified key sectors like service, corporate, or sun and beach tourism.
The investment attraction strategy includes custom information packets for potential investors, continuous and confidential guidance throughout the decision-making process, and journeys across cities of interest.
These efforts have allowed hotel chains to operate in Colombia, including Hilton, IHG, Marriot, AC by Marriot, Accor, Hyatt, Hoteles NH, Hotusa, Pestana, Sonesta, Starwood, Radisson, CityExpress, and IberoStar, with branches in San Andres, Bucaramanga, Cucuta, Cali,  Bogota, Medellin, Cartagena and Barranquilla, among others. 
According to the Central Bank of Colombia, back in 2002 foreign direct investment in trade, hotels and tourism in Colombia was $116 million USD, and by 2012 this indicator showed a tenfold increase, with $1.3 billion USD.
Current tax incentives for new projects also encouraged new investments. Hotel services are the only sector in Colombian economy that has benefitted from full income tax exemption for 30 years.
These investments have increased the trade, restaurant and hotel sector's share in Colombia's total employment rate to 27%.
Cosmetics and personal care
Information technology and creative industries