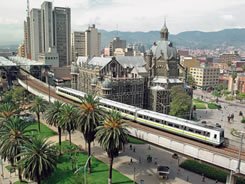 Medellin, "Innovation Hub" for Investment
– Medellin, the most innovative city in the world, offers opportunities to attract foreign entrepreneurs in the fields of ICT (shared centers and BPO, development and integration of IT services and applications, and software and data center development), cosmetics and toiletries (production and R&D centers), tourism (business and shopping destinations), textiles, and agribusiness (fruit and vegetable produce and woodlands). 
In the last few years, the city has welcomed companies focused on IT, BPO, digital content, etc. This has allowed Medellin to support training activities for human resources, resulting in growth for these industries. 
Medellin was awarded the title of "Most Innovative City of 2012" by the Urban Land Institute, the Citi financial group, and the Wall Street Journal magazine, who pointed at the city's transformation process during the last 20 years to become a benchmark in urban planning, CO2 emission reduction, social integration via public transportation, parks, libraries, cultural centers, and public spaces. 
They also noted the efficiency of public companies that supported social projects in addition to integrating public and private spaces. 
"Medellin deserves this recognition. The city stands out as an innovation hub, an effort that started several years ago with the promotion agency and PROCOLOMBIA, working together towards seeking foreign direct investment that sheds some light on the capacity not only in Medellin, but also in Antioquia and all of Colombia. This recognition will also help leverage business opportunities in Colombia, not only regarding innovation, but also human resources that work towards developing new projects", stated Maria Claudia Lacouture, President of Proexport.
Foreign direct investment projects linked to innovation affairs will create over 2,000 jobs within the next three years in Medellin, where companies from the United States, Canada, and Central America have come down with innovation projects. Also, investors from Asia and Europe are analyzing the chance to come here.
Some of the success stories supported by PROCOLOMBIA include: The Kimberly-Clark Global Innovation Center, Pipeline Studios (one of the largest animation centers in the world), MSH Group, Hewlett Packard, Procter & Gamble, MS Timberland Holdings, and more.
According to official figures from the Bank of the Republic, Antioquia ranked second among FDI targets in Colombia between 2007-2011 with a 23.5% share above the total flows into the country, reaching $2,616 million USD at the 2011 cutoff. Among these investments, 34.8% reached Medellin in the Industrial (54.4%), Real Estate (19.9%), and Trade (14.2%) sectors.
The Cooperation and Investment Agency of Medellin and the Metropolitan Area notes that about 284 acres north of the city are ready to promote the installation of  innovative activity and technology-based companies, in addition to centers such as RUTA N, which foster new knowledge-based businesses with international participation.
Investment Opportunities in Medellin
BPO:

Opportunities in basic voice, KPO, and Back Office.
Qualified manpower: 10,721 professionals graduated in 2010 from related-college programs. Employment Observatory, 2012
Government support with the Cluster City Medellin project and a Communications Technology innovation plan focused on ICTs, medicine, and energy with approximately 400 innovation projects approved by Colciencias. Tecnova Corporation ACI, 2012
Cosmetics and Toiletries:

R&D centers: Genome Sequencing Center (Colciencias and Antioquia University), Pharmaceutical Sciences and Research Center (Centro de la ciencia y la Investigacion Farmaceutica, CECIF).
Its geographical location allows access to ports on the Atlantic and Pacific oceans.
Software and IT Services:

Opportunities in outsourcing, IT support and training, digital animation, and mobile application development.
More than 9,612 graduate students from industry-related technical and technology education programs in 2001-2010. Employment Observatory, 2012
It also receives government support with the Cluster City Medellin project and a Communications Technology innovation plan focused on ICTs, medicine, and energy with approximately 400 innovation projects approved by Colciencias. Tecnova Corporation ACI, 2012
Cosmetics and personal care
Information technology and creative industries