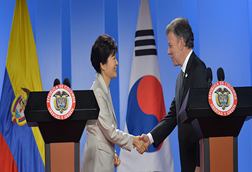 Korea seeks to increase foreign investment in Colombia
In light of the official visit of the President of Korea Park Geun-Hye to Colombia, the president invited entrepreneurs from her country to invest in Colombia and take advantage of the opportunities the country has to offer in large projects within financial services, infrastructure, development of roads and highways, airports and logistics.
With the aim of strengthening the investment in the automotive sector– one of the leading industries in Korea – both countries have signed and agreement to stimulate research, development of components and parts from the automotive industry, as well as provide an exchange platform of engineers and professionals enabling Colombia to increase its capacity for innovation and application of clean technologies such as electric vehicles.
Infrastructure is one of the most coveted sectors, and in which Korea is finding opportunities in Colombia that match their interests. The private equity infrastructure fund CFC-SK ElDorado Latam, which focuses on investments in the sector, made an initial contribution of US $ 100 million in light of the president's visit.
More entrepreneurs are expected to join as the investment fund is seeking to reach US $ 500 million aimed at roadwork, ports, airports, and energy.
The president of Colombia, Juan Manuel Santos, said that relations with South Korea are going through an exceptional phase after they signed several agreements and the Free Trade Agreement (FTA) came into force with the Asian nation.
Reports from the Central Bank of Colombia, South Korea is the second Asian investor in Colombia after Japan, and so far has recorded a cumulative FDI of US $ 176.8 million between 1994 and 2014.
Cosmetics and personal care
Information technology and creative industries