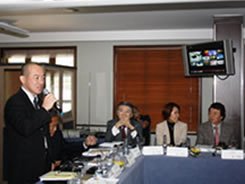 Japanese entrepreneurs visit Bogotá and Cartagena to learn about opportunities in Colombia
Bogotá. Representatives from recognized Japanese companies like Mitsubishi Heavy Industries, Hitachi Zosen, Kawasaki Heavy Industries, and Nippon Express USA, among others, arrived in Colombia for several days to learn and assess the potential of investment in different sectors in the country.
This mission, which was coordinated by the Japan External Trade Organization - JETRO, in alliance with PROCOLOMBIA, seeks to provide Japanese companies with an opportunity to know about the environment and investment opportunities in the country.
Colombia is highly regarded, thanks to the fact that it has undergone a very positive change of perception. This translates into a great opportunity to bring Japanese companies interested in doing business in Colombia, allowing them to personally appreciate the country's potential from a variety of sectors," said Fuhimiro Shimizu, Director of JETRO Bogotá.
The entrepreneurs attended a presentation on investment opportunities given by PROCOLOMBIA, featuring the attendance of Gabriel Duque, Vice Minister of Trade.
"They are decision makers from Japanese companies with an important presence in the United States. We want them to assess Colombia as an investment opportunity. They come from a variety of sectors, such as manufacturing, equipment and machinery, logistics, finance, law firms and human resources. They are multipliers and will comment will comment with other companies what is going on in the country," said the President of PROCOLOMBIA, María Claudia Lacouture.
After their stay in Bogota, they will be on their way to Cartagena, where they will meet with officers from the Duty Free Zone of La Candelaria and Port of Cartagena authorities.
"Duty Free zones in Colombia are of great interest for these entrepreneurs. Hence, their visit to Cartagena, to assess the possibility to establish their operations there and foster product exchange towards the United States and Europe, through the Caribbean Ocean," added Shimizu.
This is the third time in less than one year that JETRO and PROCOLOMBIA join efforts to bring the Asian country closer to Colombia. The first event took place as part of the visit by President Juan Manuel Santos to Japan, back in September 2011, and later a group of 80 Japanese entrepreneurs established in New York attended a presentation on investment opportunities in Colombia.
Cosmetics and personal care
Information technology and creative industries