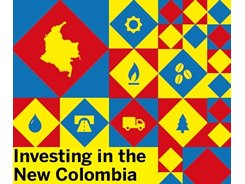 Investors from the United Kingdom Will Learn about Opportunities in Colombia at a Financial Times Seminar
"Investing in the new Colombia" is the name of the event scheduled for June 7. It is expected to bring together over 300 entrepreneurs from the United Kingdom. They will be learning about the opportunities and advantages Colombia has to offer in attracting international projects.
Participants include Colombian President Juan Manuel Santos, Colombian Ambassador to the United Kingdom Mauricio Rodriguez, Latin American editor of the Financial Times John Paul Rathbone, and PROCOLOMBIA President Maria Claudia Lacouture. The event was organized by the Financial Times and Proexport.
"Boosted by business-friendly policies and a long track record of regulatory stability, foreign direct investment inflows have soared. Today, Colombia has gained investment grade credit ratings and has been referred to as the 'new Brazil' due to its rapid economic expansion and record foreign direct investment," according to the Financial Times, the UK's most influential newspaper. It also stated, "While other key emerging market economies are cooling down, Colombia's growth does not show signs of abating."
Orlando Cabrales, Vice-Minister of Mines and Energy, will introduce Colombia's economy current momentum to participants.
Luis Fernando Andrade, President of the National Infrastructure Agency; German Arce, President of the National Hydrocarbon Agency, and Maria Constanza Garcia of the National Mining Agency will participate in a panel moderated by Javier Blas, raw materials editor for the British newspaper, to debate the Colombian government's growth consolidation, strategies, priorities and policies.
Vice-minister of Commerce Gabriel Duque and the Financial Times Latin American Editor will participate in a session dedicated to the advantages of the free trade agreement with the European Union.
David Bojanini, President of Suramericana Investment Group; Juan Pablo Córdoba, CEO of the Colombian Stock Exchange and Roberto Junguito, executive with Fasecolda, will represent the private sector and speak about the financial system and capitals market as part of a panel moderated by Jonathan Wheatley, editor for emerging markets at the specialized newspaper.
President Juan Manuel Santos will conclude the event with a presentation about Colombia's transformation.
"Between January 2012 and May 2013, PROCOLOMBIA provided guidance and assistance for eight investment projects from the United Kingdom that will create 1,048 direct jobs in Bogota, Antioquia and Valle del Cauca. We've determined that Colombia has a potential for capital funds, BPO, information technology, infrastructure and oil and mining goods and services for this European market," emphasized Lacouture.
Unilever is one of the UK companies that received assistance from the Colombian agency in its installation and expansion process. The company expects to invest nearly 40 million euros in a detergent production plant in El Valle; it will be the third in the country. Through this plant, it expects to supply not only the domestic market, but also exports to Venezuela, Ecuador and Central America.
Unilever executives in Colombia insist that they are betting on the country as a strategic investment destination, and they expect business to grow consistently in the years to come. They said that Colombia is a diverse country with multicultural regions and specific preferences in each area of the country.
They added that in a growing economy, it is important to constantly innovate in order to be on the cutting edge with products that meet the expectations of this European company's consumers.
According to figures released by the Bank of the Republic, with an accumulated investment of USD 6,187 million between 2000 and 2012, the UK is the second largest source of direct foreign investment in Colombia, which represents nearly 14.3% of the total received by the country.
According to analyses made by the Financial Times' intelligence and information analysis unit, inflows of foreign capital from this market between 2003 and 2012 were directed primarily at industrial machinery and equipment, financial and business services and drink sectors.
Cosmetics and personal care
Information technology and creative industries