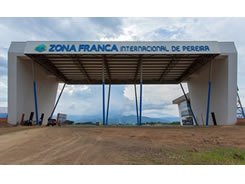 Invest in Pereira and Pereira's International Free Trade Zone seek alliances in Peru
Lima. Peru has been invited by PROCOLOMBIA to a business delegation led by Invest In Pereira and the Pereira Free Trade Zone which aims to consolidate strategic alliances with Peruvian companies from leading economic sectors.
Pereira is located in the Central West part of Colombia, right in the middle of three main economic hubs and sitting at the main seaport along the Pacific Ocean. This enables the region to cover a radius of 124 miles and house more than 23 million people concentrating 76 % of national GDP. "The city is positioned as both; an excellent logistics center to serve the Colombian market as well as to integrate foreign trade." said Natalia Guzman, Manager of Invest in Pereira. The industrial sector in this region specializes in exports with an extensive experience in markets like the United States, Venezuela, Ecuador and Central America.
It becomes quite interesting for entrepreneurs to see that the free trade regime offers significant tax benefits for industrial, commercial and service operations and in addition Pereira's Free Trade Zone provides valuable guarantees for foreign companies. "Since 2011, PROCOLOMBIA, Invest in Pereira and the Free Zone have done a joint effort to attract foreign entrepreneurs by supporting and assisting them in their decision making and settlement process. The work done to promote investment opportunities in the region in more than 30 countries has meant that in the last year prospective investors from China, Argentina, Portugal, Mexico, Spain and Brazil have made plans to visit the Department and are interested in the potential benefits from BPO, IT services, Hotel Infrastructure, Automotive, and other industries" stated the president of PROCOLOMBIA, Maria Claudia Lacouture.
"Pereira's Free Trade Zone stands as a comprehensive foreign trade platform that enables the implementation of large-scale industrial projects, trade with major markets in the world and the development of national and international logistics especially for companies in the textile & apparel, metallurgy, logistics and services, " said Daniel Giraldo, General Manager of the Free Trade Zone.
One of the most attractive benefits offered by the Pereira Free Trade Zone to Peruvian companies who are interested in settling in this region is the flat rate income tax of 15%, lower than other locations that apply 34% tax rates. Another benefit of settling in Pereira is that it is the only Free Trade Zone that has multimodal transport system (railroads, rivers, highways, airports); simplification of trade operations; duty and tax exemption; unlimited storage for capital assets and supplies; and up to 40% savings in logistic operations compared to other regions in Colombia.
Cosmetics and personal care
Information technology and creative industries