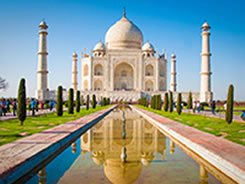 India and Colombia Set an Integration Example
Nearly a dozen Indian companies have settled in Colombia, driven by the benefits offered by the country as an investment platform. One of the more relevant cases is transnational corporation Genpact (BPO world leader), which opened up in Bogota in October 2011, and whose settlement process was assisted by Proexport.
According to a report published by the Portafolio journal, there are 36 Indian companies established in Colombia in the automotive, IT, and energy sectors.
Considering the trends of India's investment projects, PROCOLOMBIA has identified opportunities for Indian entrepreneurs in sectors like BPO&O, software and IT services, and metal-mechanics.
Colombia also offers investors advantages as an exporting platform. For example, exports can be made towards the US, as there is a current FTA with this country. This allows the entrance of items like medical devices with tariff benefits. This same condition applies while exporting pharmaceutical products to Switzerland and Chile, as Colombia also has a free trade agreement with said countries.
Cosmetics and personal care
Information technology and creative industries