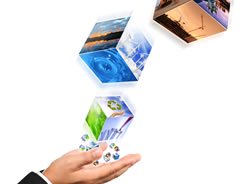 Important investors will support Colombian entrepreneurial projects
Medellin. On July 11 and 12, the Plaza Mayor in Medellin will be the host of the Emtech Colombia 2012 conference, considered one of the most important events on emerging technologies in the world, in which technologists, businesspeople, investors, innovators and entrepreneurs from various countries will gather to present and analyze the technologies with the greatest development potential and their impact on society.
During the event, organized by MIT with the support of the Medellin Mayor's Office, EPM and PROCOLOMBIA, an investment forum is scheduled in which 20 renowned venture capital investors (national and international) will meet along with the same number of previously selected Colombian entrepreneurs, in order to analyze their profiles as well as the possible financing of their projects.
The invitation to form part of this select group is open for technologically based projects from the fields of biotechnology, clean technologies or cleantech, TIC technologies, among others. Registration is open until June 1 at www.emtechcolombia.com/foro-de-inversion, following the instructions for registration.
This forum will be moderated by the MIT Entrepreneurship Center founder and director from 1996 to 2009, Ken Morse, a serial entrepreneur who has played a crucial role in starting up several high technology companies throughout the world and who is currently in charge of inspiring, training and motivating the new generations of entrepreneurs.
It will be an ideal space for generating investments in future projects and also for expert investors to learn about development level of Colombian entrepreneurial projects, the technology they use and their business models.
Capital funds and venture capital are sectors that PROCOLOMBIA promotes in its strategy for attracting foreign interest in the country. According to the Latin American Venture Capital Association (LAVCA), Colombia is the only country in the region that has shown constant improvement in its private capital funds and entrepreneurial capital environment, and is in fourth place among Latin American countries, taking into account that since 2008 it has gone up seven positions.
Currently, renowned capital funds are established in Colombia such as Equity International, Brookfield, Ashmore and PSP Investments.
Cosmetics and personal care
Information technology and creative industries