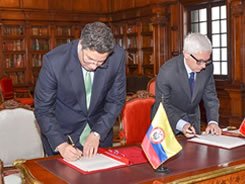 IHG to Invest in New Hotels in Colombia
The growth and positive economic conditions of Colombia provide opportunities for IHG as "their main goal is to meet the middle-class travelers' needs through Holiday Inn hotels", stated the Group's Marketing and Sales Vice-President in Latin America, Gerardo Murray.
Murray believes that "Colombia is a very interesting business platform for the sector thanks to the Government's efforts to attract foreign investment, in addition to a burgeoning economy that ranks among the top three in Latin America. As an international hotel chain, we are looking for business niches we know will succeed and will be in high demand."

The markets with the highest development potential for IHG include: Brazil, Central America, Chile, and Colombia. The IHG network in Central and South America and the Caribbean includes 83 hotels with a total of 16,531 rooms. The company will leverage the growth of the middle class in the region through its Holiday Inn brand.
IHG is a global hotel chain managing nine brands with presence in 21 countries and regions in Latin America and the Caribbean; in Colombia, the company has 9 hotels and is planning to open 3 more by the end of this year. The company was recognized during the Latin Trade's Best of Travel Annual Awards 2014 not only for the largest expansion in the region, but also for their premium hotels. The following hotels in Colombia received awards: Crowne Plaza Tequendama Bogota as the "Most Improved Hotel", and Crowne Plaza Suites Tequendama in the category of "Best Hotel Value for the Price".
The presence of InterContinental Hotels Group (IHG) in Colombia is the result of efforts by PROCOLOMBIA, who helped position brands like Intercontinental, Crowne Plaza, and Holiday Inn, among others, which are now well-established and welcome both domestic and international tourists.
Cosmetics and personal care
Information technology and creative industries