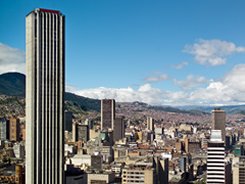 Hotel Industry investments boom in Colombia
Big American chain hotels, such as Best Western and Wyndham, will continue expanding and investing in Colombia as a result of the country's economic growth and strategic location in the region. 
Best Western, which has presence in 90 countries and more than 4,200 hotels worldwide, has already built three facilities in Colombia: two in Bogota and one in Medellin and with a $110 million dollar budget for investment in the country; it already has the green light for Best Western Plus in Armenia, Monteria, Girardot, and Bucaramanga.
According to Elizabeth Becerra, General Manager of Best Western Plus 93 Park Hotel, "good investment climate for investors, Open Skies policies, Free Trade Agreement with the United States, and in the region, it is one of the countries that has an optimistic outlook" is what motivates Best Western to continue investing in Colombia.
Similarly, the Wyndham Hotel Group will open 10 new hotels in Colombia by 2014. During 2012, the group expanded with three new hotels in Bogota with more than 700 rooms and in 2013, it will develop 4 projects in Bogota, Cartagena, and Tayrona National Park. For 2014, it will open three more hotels for a total of 1,143 rooms. According to the group's General Manager, Pablo Nieto, Wyndham will be the fourth largest hotel chain in the country.
Source: La Republica
Cosmetics and personal care
Information technology and creative industries