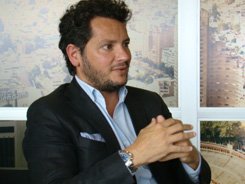 Hotel chain Pestana from Portugal arrives in Colombia
The Pestana hotel chain from Portugal will open the new Pestana 100 Bogota in Colombia, a five star project that will be located in the northern part of the capital and marks the start of operations for the group in the country, reaffirming it as a destination for direct foreign investment
Pestana, considered one of the top five in the hotel sector in Europe, will arrive in Colombia framed in its expansion strategy in Latin America and attracted by the advantages that the country offers for the arrival of foreign capital.
"Colombia is a treasure waiting to be discovered. Great efforts are being made to promote a country that is different, with economic and political robustness, and with potential in every business area. The economic outlook, competitive and trained manual labor, among other factors, gives us the confidence that the project will be a success," assured Luis Araujo, vice president of Grupo Pestana for Hispanic America.
With an investment of 12 million dollars, the hotel complex will have 82 rooms and will be located on calle 100 and 15th, in the northern area of the capital. The project will generate 50 new job positions that will be filled entirely by Colombian manual labor.  
"The work force of Colombia is very trained and valued. The warmth and customer service culture of Colombian workers facilitates the development of our project and we fully trust in their work capacity," assured Luis Araujo.
Pestana Hotels and Resorts came to Colombia with the support of PROCOLOMBIA, an organization that accompanied and advised the group on all of the procedures and processes for incorporating in the country.
The hotel chains incorporated in Colombia in recent years include Marriott, Hilton, Holliday Inn, Ibis, Hyatt, Sonesta and Sheraton, among others.
Cosmetics and personal care
Information technology and creative industries