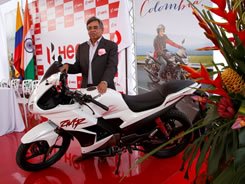 Hero MotoCorp, the largest motorcycle manufacturer in the world, comes to Colombia
The cornerstone in the construction of the motorcycle plant was laid in a ceremony attended by Pawan Munjan, CEO of the company, and a committee from India led by Prabhat Kumar, the Indian ambassador in Colombia. The plant will create 300 direct jobs.
Munjan emphasized that Hero considers Colombia to be "the distribution platform for other markets on the continent" and added the country's advantages for the company: "The location is strategic for the brand's interests; it offers one of the most solid and stable economies of the region, and it provides guarantees for the start-up of new companies' operations."

PROCOLOMBIA shared in the company's decision-making process in the country, in an operation that started in 2012 and included the delivery of customized information on the sector as well as on the investment opportunities in Colombia.

María Claudia Lacouture, president of PROCOLOMBIA, affirmed that "Hero MotoCorp joins the investors for whom Colombia is the ideal market for their business plans, with important advantages like skilled labor and competitive costs versus the region, and who find there a platform for exports that will make it possible for them to reach other countries in Central and South America. In addition, the company's entry will generate productive jobs and promote development for Villa Rica, in the Valle del Cauca.

Hero MotoCorp expects to sell 200,000 motorcycles per year in Colombia, in a market that currently sells 600,000 units. Hero is the largest motorcycle manufacturer in India, and has a presence in 19 countries and a sales record of 50 million motorcycles in the past decade.
Cosmetics and personal care
Information technology and creative industries