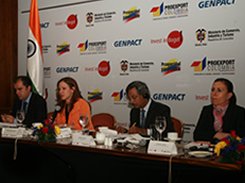 Genpact expands its operations in Latin America through its new office in Colombia
María Claudia Lacouture, President of PROCOLOMBIA, announced the arrival in Colombia of the company Genpact Limited last Tuesday, a leading BPO (business process management and technology) company, to be established in Bogota to offer its services to the multinational SABMiller, among other companies.
This announcement is part of the efforts the National Government has been developing as part of the Productive Transformation Program, which seeks to promote the outsourcing services sector as one of the 12 economic sectors that make up the national production portfolio, and are the pillars of the industrial policy.
With its new operation in Colombia, Genpact plans to offer large scale services in accounting and finance, as well as supply chain processing, and also to establish a Latin American hub in the country for its Smart Decision, comprehensive analysis, re-engineering and risk management services.
According to Pradmon Bhasin, Vice President of Genpact, "Colombia offers a very favorable business atmosphere for the company and its customers; a skilled workforce with high levels of literacy and competencies; a healthy and growing economy, a large number of universities with strong business programs and the presence of various industries and open trade practices. For these reasons, it is an honor for Genpact to establish its roots in Colombia and become part of its culture and its thriving business community."
Meanwhile, Tiger Tyagaraja, President and CEO, said "the expansion of Genpact in Colombia supports our strategy to bring our experience to the fast-growing countries to serve both the multinationals which are also expanding in this country, as well as the Colombian domestic market. We are proud of the partnership we achieved with SABMiller to establish our center in Bogota, and we expect to grow our presence in the country with them and other new customers."
Genpact's investment in Colombia will generate about 250 value-added jobs in the financial and accounting fields in its first phase, and a second stage expansion could mean up to 2,000 positions of the same characteristics. This operation will include outsourcing of financial and accounting processes for a multinational company.
The company's decision to come to Colombia, is the result of a process that developed since 2008 with the support of PROCOLOMBIA and Invest in Bogota, when presented with investment opportunities in this sector.
In this regard, the president of PROCOLOMBIA, María Claudia Lacouture, said that "since then, we have been working for Genpact to have all the tools to make the decision. We offered them information about the workforce, operating costs, incentives, legal framework, the duty free zone regime, and carried out various exploratory investment agendas to validate the Colombian market. Therefore, we are convinced that this decision not only confirms the confidence that foreign investors have in the country, but the great potential of the BPO sector."
For the company to decide to make this investment, the activity of Invest in Bogotá was focused on building the business case of Bogota, the coordination of visiting schedules, organizing meetings between the decision makers of the company and the sector's relevant players, the city and country, and the preparation of an attractive city proposal
Cosmetics and personal care
Information technology and creative industries