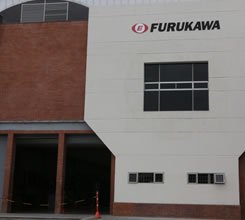 FURUKAWA Opened a Fiber Optics Plant in Colombia
This 34,445-square-feet-manufacturing plant was an investment of $5 million USD, and will create 25 direct jobs and nearly 200 indirect jobs. The plant is located in the Pacific Free Trade Zone and will have the capacity to produce 6,213.7 miles of fiber optics every year.
"Some of the reasons to pick Palmira as the home for this new plant are its geographical and logistic advantages with access to both the Pacific and Atlantic oceans. All other current plants in Latin America are located towards the Atlantic, so reaching the Pacific is a great opportunity. Also, the location of the Free Trade Zone allowed us to move our Distribution Center operations from Panama to Colombia and consolidate an operations point," stated Foad Shaikhzadeh, President of Furukawa Industrial SA.
This project that lured the third fiber optics manufacturer in the world has been under development since 2011 between PROCOLOMBIA and Invest Pacific, who have advised the Japanese company through its branch office in Brazil, together with visits to Cali by Furukawa representatives.
Furukawa works on connectivity solutions for the corporate and home sectors, where fiber optics developments include cables, accessories, and equipment to create connections that enable high speed data, image and voice transfers. 
According to Shaikhzadeh, "Colombia, like the rest of the countries in Latin America, is looking to provide broadband services to the general population. These services are available through mobile devices with 3G and 4G (LTE) technology, and also from fiber optics and copper fixed points. The big challenge for all countries is to provide infrastructure so that service coverage and quality can both develop. For wireless and fixed solutions, fiber optics infrastructure is pivotal as it can carry data massively compared to conventional copper lines."
Cosmetics and personal care
Information technology and creative industries