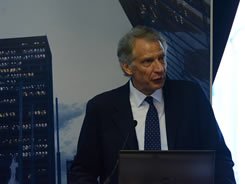 French Ex-Prime Minister Singled Out Colombia as an Investment Destination and Exporting Platform
Paris, France, Oct. 24th (Pxp) - French ex-prime minister, Dominique de Villepin, encouraged French investors to take a closer look at Colombia, a country full of potential and opportunities for foreign entrepreneurs.
During the seminar organized by PROCOLOMBIA in Paris, Dominique de Villepin, ex-prime minister of France, showcased the stability and investment opportunities available for French companies in Colombia.
"Colombia is a democratic, law-abiding country and, as a result, foreign investors know they can rely on legal and political guarantees(.) it's very important to have a functional Government," stated the French dignitary last Thursday, October 24th, during the investment opportunities seminar held by PROCOLOMBIA in Paris, France, concurrent with the first Business Matchmaking Forum in the European Union.
"Many French companies are looking forward to establish regional headquarters. Considering the importance of the Pacific Alliance and the strength of the Colombian economy, Bogota or any of the major cities would be the perfect place of business, providing access to the rest of South America while enjoying guaranteed stability, which is a priceless factor among investors," explained Villepin, who also highlighted the good political and economic relationships reinforced by free trade.
During his participation at the seminar, attended by more than 50 French investors, Villepin listed the opportunities for companies interested in infrastructure planning and in providing services related to power generation, as French firms are renowned globally for their long history in the development of roadways, ports, airports, and railways.
"The Colombian economy is strong and enjoys very relevant qualities compared to other emerging or Latin American economies, with a growth of almost 6% and contained inflation and debt, showing that the country is very well balanced: an important factor for investors when choosing new markets," added the French ex-prime minister.
In turn, the President of PROCOLOMBIA, Maria Claudia Lacouture presented the foreign direct investment opportunities and the benefits in the country as an exporting platform has with access to more than 1,500 million consumers around the world.
"At least nine cities in Colombia have more than 500,000 residents and business opportunities for foreign investors, and the purchasing power of Colombian consumers has also been growing steadily for the last few years, and this translates into potential for companies interested in economies with sustained growth," explained Lacouture.
Panelists included Javier Hernandez, Executive Vice-President of the National Infrastructure Office (Agencia Nacional de Infraestructura, ANI), who underlined the country's progress in terms of infrastructure, with an investment that doubled from 2010 to 2012.
"The Fourth Generation Concessions program (4G) forecasts investments for $26 billion USD and intervention of more than 4,971 miles of the 10,563 miles comprising the national roadways. This is without a doubt the largest infrastructure project laid out in the history of Colombia and one of the largest in the world. To understand its scope, note that this project's value is far greater than the cost of expanding the Panama Canal," affirmed Hernandez.
The French ex-prime minister stated that other potential sectors ready for French investment in Colombia include agribusiness, hotels, biotechnology, etc., and added that another outstanding aspect of Colombian economy is "the growth of the middle class with more producers and consumers, which also attracts French firms."
PROCOLOMBIA held a related seminar in Frankfurt before 43 representatives of the top German companies. Attendants included Hochtief, Strabag, HeidelbergCement, TÜV Rheinland, Balfour Beatty Rail GmbH, Doppelmayr Seilbahnen GmbH, KfW Entwicklungsbank, Jasperarchitects, Gauff Engineering, IHK Frankfurt, and Deutsche Bank, among others.
Also attending these two events was Tomas Elejalde, Medellin Metro Operations Manager, who showcased the expansion plan for the system; the Urban Development Institute of Bogota commented about the public works plan for the capital; and Invest in Bogota conducted a presentation about the city's potential.
According to FDI Markets, the analysis unit for the Financial Times, the top infrastructure investors are Germany with 535 projects, Spain with 495, France with 468, and United Kingdom with 451 projects.
Europe Looks Closely at Colombia
During the last three years, the market in Spain has been the main source of foreign direct investment, issuing 29 projects supported by PROCOLOMBIA's management, followed by United Kingdom with 15 initiatives, Germany with 6, Portugal with 4, France with 3, Switzerland with 2, and one from Belgium.
"Companies from these countries chose Atlantico, Magdalena, Bogota, Vichada, Cundinamarca, Bolivar, Antioquia, Meta, Santander, and the Coffee Cultural Landscape to develop their business in 13 job-creating sectors," noted the President of PROCOLOMBIA Colombia.
According to data reported to PROCOLOMBIA by international entrepreneurs, European projects that chose Colombia as their investment destination are planning to create 32,487 new jobs and will commit $1,878 million USD worth of resources for the next three years.
"We currently have 37 European projects with the sole interest of bringing investments to the country for sectors like infrastructure, BPO, construction materials, and manufacturing. They also expressed interest in Colombia as an exporting platform to third countries with which there are valid trade agreements," said Lacouture.
Cosmetics and personal care
Information technology and creative industries