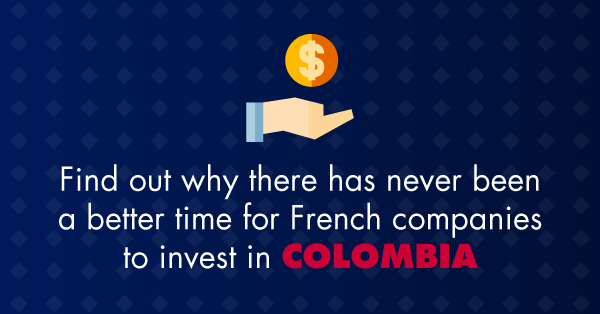 Four reasons why French companies should invest in Colombia
Four reasons why French companies should be investing in Colombia, including the best investment opportunities and best businesses to start
Colombia and France have been staunch allies for more than a century now and the two nations have honored a long history of co-operation by celebrating the 'France-Colombia Year' – a celebration that has turned into the ideal opportunity for French companies to invest in Colombia.
The two countries are determined to strengthen and diversify the links that exist between them and take advantage of the year's events to promote cultural and business exchanges, increase exports, and encourage the growth of French tourism and foreign direct investment in Colombia.
Colombia is revealing its reinvention as a nation and sharing the expertise it gained during its long path to peace, as well as its prowess with research, investment, trade and biodiversity and its commitment to sustainable development and the promotion of its diverse cultural heritage.
France is renewing its reputation in Colombia as a leader in creativity and innovation, from its artistic and cultural output to its excellence in scientific research and training, and is unwavering in its support for the country's peace process and construction of a modern, competitive, prosperous Colombia.
There has never been a better time for French companies to invest in Colombia. Here we reveal the best businesses to start in Colombia, the best investment opportunities for foreign direct investment in Colombia and why the France-Colombia Year has made this the ideal moment to invest.
Wide range of sectors
France invested more than US$1.7bn in Colombia between 2010 and 2016 and more than US$570m of this foreign direct investment in Colombia focused on nine key projects supported by ProColombia. Popular sectors for French companies investing in Colombia include cosmetics and personal care, construction and engineering, logistics, investment funds, tourism, metal working and the automotive industry. Colombia is particularly proficient in the manufacture of parts and components for the automotive industry and has an annual production worth more than US$1bn, almost half of which is exported.
High-profile players
French multinational companies have a keen eye on their ally and have seized investment opportunities in Colombia. Companies including AXA, Airbus Group, BNP Paribas, Renault, Group Casino, Sanofi-Aventis, Accor, Signaux Girod, Air Liquide and Decathlon are all investing in Colombia.
Diverse opportunities
French companies interested in investing in Colombia will find a wide range of investment opportunities and some of the best businesses to start in Colombia are found in the same sectors. These include infrastructure and roads, construction materials, vehicles and automotive parts, BPO and shared services, information technology, apps, agribusiness, logistics and port development, cocoa production, fruit and vegetable processing and pharmaceuticals.
Potential for growth
Now is the time to invest in Colombia thanks to the number of sectors offering growth potential for French companies interested in investing in Colombia or looking for the best businesses to start in Colombia. There is huge potential for alliances in the production of processed food, such as cookies, jams and preserves, with Colombia's agricultural abilities and biodiversity making it ideal for producing organic and environmentally friendly products. There are also investment opportunities in the industrial machinery used in agriculture, construction and mining and for energy transmission. Domestic production currently meets just 17.7% of domestic demand in these sectors and the rest is imported.
Colombia is a great opportunity for investors. Learn more about PROCOLOMBIA investment services and expand your business now.
Cosmetics and personal care
Information technology and creative industries