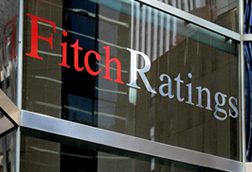 Fitch Affirms Colombia's FC IDR at 'BBB'; Outlook Stable
Fitch Ratings has affirmed Colombia's long-term foreign and local currency Issuer Default Ratings (IDRs) at 'BBB' and 'BBB+', respectively, with a Stable Outlook. The issue ratings on Colombia's senior unsecured foreign and local currency bonds are also affirmed at 'BBB' and 'BBB+', respectively. The country ceiling is affirmed at 'BBB+' and the short-term foreign currency IDR at 'F2'.
A record of policy continuity and consistency has entrenched macroeconomic and financial stability through political and economic shocks such as the present decline in international oil prices. The flexibility of the Colombian peso to absorb the external shock has been significant reflecting Colombia's favourable starting position in terms of financial system robustness, limited FX mismatches in the economy and low inflation.
Fitch expects the Colombian economy to expand as the challenging external environment will likely lead to a more moderate growth trajectory, albeit stronger than regional and rating peers.
Cosmetics and personal care
Information technology and creative industries