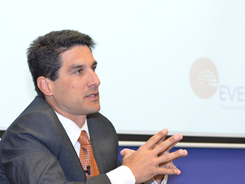 Evertec Will Leverage the Opportunities in the Financial Sector
PROCOLOMBIA advised this Puerto Rican company listed in the New York Stock Exchange to choose Colombia as a new-investment destination and create a beachhead in South America.
Miguel Vizcarrondo, Head of Business Development & Sales and Payment Processing Executive Vice President at Evertec, explained that their main focus will be to instruct clients at medium-sized banks in order to further encourage the use of credit cards.
The firm performs 2.1 billion transactions every year and manages the electronic payment network for over 4,100 ATMs and more than 100,000 points of sale in 19 countries in the region.
Why Did They Choose Colombia?
First, they speak Spanish.Second, Colombia is a large country with a population of more than 47 million; this means a greater potential to us than that in the Caribbean. Third, Colombia has a highly trained workforce and smart consumers. Fourth, the Government is open to foreign investment and PROCOLOMBIA paved the way for us. Lastly, the biggest discovery we made: high cash use.
What Services Will You Provide in the Country?
Financial transaction processing through ATMs, points of sale, electronic payment, kiosks, among others. We will also start managing prepaid, debit, and credit cards, and will develop and implement financial applications and solutions for government benefits payments.
Which Colombian Region Did You Choose?
PROCOLOMBIA advised us throughout the whole process. Our headquarters will be based in Bogota, and our goal is to reach Medellin and Cali, but our main plan is to expand our services to provide card and credit card terminal safety.
Will You Exclusively Service Banks?
Yes, institutions are our main focus. We will provide tools so that banks can serve their individual and business clients.
How Did Your Global Expansion Process Develop?
Colombia is our natural choice in the development process, not only to serve the domestic market, but also the rest of South America.
When Will You Start Managing South America's Operations from Colombia?
As we have mentioned before, we are interested in opening a new market every year.
What's Your Advice for Foreign Investors Interested in Colombia?
We had a very positive experience, people are kind, the companies and the Government are willing to negotiate, and we have received lots of information and help. Thanks to its attractive investment alternatives, Colombia's options are as good as those in the other 19 countries we conduct business with, which is why we picked it as the base to reach all of South America.
Cosmetics and personal care
Information technology and creative industries