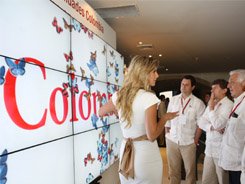 Entrepreneurs in Cartagena highlight Colombia's potential to do business
A business-friendly country, with great potential, challenges and interesting human capital, were some of the adjectives used by almost 600 entrepreneurs who participated in the 2012 America's Corporate Summit to describe Colombia.
Indra Nooyi, CEO of Pepsi Co, highlighted the potential of the food and beverage sector in Colombia which, from his point of view, has been growing steadily throughout the past years. 
"Colombia is an investment-friendly country, with large potential, with a Gross Domestic Product that grows at an attractive pace, with good fiscal management and a great work-force," said Nooyi.
The America's Corporate Summit took place at the Hilton Hotel in Cartagena, the city that gave proof, yet once again, why it has the necessary infrastructure to host large-scale events.
Arne M. Sorenson, President and CEO of Marriott International Inc., stated that "Colombia is a land of great opportunities", and highlighted the beauty of Cartagena, where "the challenge is to promote it further to international travelers, because its visitors can bring home a wonderful experience, whether it be for business or for tourism."
Sorenson stated that the hotel chain, which has already established a Marriott and a J.W. Marriott in Bogota, will increase its presence in the country through new establishments in the cities of Cartagena, Cali and Medellín.
He also mentioned the country's potential in luxury tourism segments, where the hotel chain can foray into during the coming years. 
According to the information issued by the Ministry of Trade, Industry and Tourism in 2011, and based on Colombian Migration information, 1,582,110 international visitors arrived in the country. Furthermore, Colombia ranks number 34 in the classification by the International Congress and Convention Association (ICCA), thus increasing its potential for convention tourism.
In terms of tourism, this trend has incentivized the arrival of international hotel chains like Best Western, Holiday Inn, and Augusta, among others. Between 2010 and 2011, 32 new hotel projects have begun in Colombia, mainly with investors from the United States, United Kingdom and Spain.
Ease to do business
Ravi Singh, CEO of electionmall.com, stated that after having been invited to provide the company's services in Colombia, they decided to establish themselves in the country, extending their international presence in Europe and Asia.
"Colombia is a platform; it has a phenomenal opportunity and is well respected at international level. It is a country that presents ease to do business, its intellectual capital is very good, and its people are very friendly," he said.  
During the America's Corporate Summit, PROCOLOMBIA has had a video wall and interactive screens for the attending entrepreneurs to have a novel way to learn about the business opportunities offered by the country.
Cosmetics and personal care
Information technology and creative industries