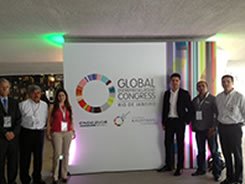 Entrepreneurs Find Support by "Angel" Investors in Brazil
For the first time in the Global Entrepreneurship Congress in Rio de Janeiro, PROCOLOMBIA supported six Colombian entrepreneurs so they could present their projects before equity funds and business accelerators with the aim of finding support and business growth.
The event hosted the following: Asegurate Facil, the first Internet insurance company in Colombia; Solar Ciencia Agricola, an entity devoted to the recording and industrialization of innovative farming solutions; Grupo Azulado, offering the women segment with innovative high quality products; Ecoflora, a leading company in sustainable technological solutions to protect crops, and the Nutriamor Foundation.
These companies' representatives held special meetings with firms like Endeavor, which helps identify entrepreneurs with the greatest potential and provide them with strategic support, helping them find "Angel Investors" to share funding and advice.
"This event held in Rio de Janeiro, with the participation of people from over 135 countries, proves that Colombia is a objective, modern, safe and a prominent destination for all sorts of investments in the region, as there are many companies wishing to diversify their business. These companies will discover that our country offers a wide array of options", stated Maria Claudia Lacouture, President of PROCOLOMBIA Colombia.
The congress was the ideal setting for entrepreneurs to garner world recognition and exchange notes with foreign entrepreneurs regarding innovative ideas that increase economic growth and job creation.
A Pivotal Point
Equity funds is one of the strategic projects the agency is driving in Brazil, as Colombia is regarded as the first option when seeking to diversify risks through high yield rates.
Due to Colombia's participation in the main events in this sector, 25 similar companies so far have learned about the investment opportunities available, and are expected to carry out official assignments in several Colombian cities in the following months.
The strength of Colombian economy, which has increased at a higher rate than the average in Brazil for the last 10 years, is among the factors making the difference to attract capital.
The firms include the domestic market, as it is one of the most attractive in the region, not only for its size, but also because of its maturity. 75% of the population lives in the cities, and other smaller cities show very interesting growth dynamics.
The major equity funds from Japan, Australia, China, United States, and Europe who are established in Brazil are looking for alternatives to come to Colombia. PROCOLOMBIA's commercial office in Brazil carries out a proactive effort to take care of this segment, which is one of the most promising of this decade.
Cosmetics and personal care
Information technology and creative industries