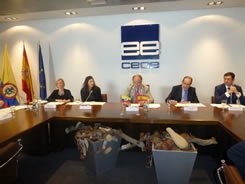 Eight Colombian Regions Seek Investors in Portugal and Spain
During this five-day event, 230 companies and business groups from Portugal and Spain will learn about industry sectors with the potential and incentives to drive foreign direct investments to Colombia throughout the opportunity promotion week held by PROCOLOMBIA in Lisbon, Madrid, Barcelona, and Valencia.
Investment agencies from Cartagena, Quindio, Valle del Cauca, Medellin, Santander, Barranquilla, Bogota, and the Pereira free trade zone will attend the event, showing potential investors all the benefits available for foreign companies.
The first stop will be this Friday, October 11th in Lisbon (Portugal), where PROCOLOMBIA will hold an opportunity seminar with support from the Luso-Portuguese Chamber of Commerce and the participation of Andi.
"Around 50 Portuguese companies will come to Lisbon to explore investment opportunities or are already planning to expand their business in Colombia. We identified opportunities for Portugal in the areas of hospitality, logistics, metalworking, fishing, outsourcing, agribusiness, infrastructure, healthcare services, and the audiovisual industry," explained Maria Claudia Lacouture, President of PROCOLOMBIA Colombia.
The next stop in this tour will be on Monday, October 14th in Madrid, where PROCOLOMBIA will hold the conference entitled "Colombia: A Country of Regional Opportunities" with the presence of Carlos San Jose, Director of Enterprise and Corporation Network at BBVA – "BBVA as a Global Bank".
On Wednesday, Francisco Arias, International Business Director at the Catalonia branch of Santander Bank, will speak in Barcelona about the practical side of investing in Colombia. The event will continue on its last day along the same lines in Valencia on Thursday. Around 180 Spanish companies will attend the three events.
In addition to the active participation of the regional offices, PROCOLOMBIA partnered with the Spanish Confederation of Entrepreneurial Organizations and the Entrepreneur Confederation of the Valencian Community for this project.
During the events held in all four cities, the representatives from the Pereira, Santander, and Bogota free trade zones and officers from Invest in Cartagena, Invest in Bogota, Invest Pacific, Invest in Santander, the Medellin and Metropolitan Area Cooperation and Investment Agency, the promotion offices from Quindio, and ProBarranquilla will meet in private with the officers of attending international companies.
This is the third week-long event PROCOLOMBIA holds in Spain since 2010 to promote investment in Colombia in response to the interest that potential investors have in the opportunities available in the service, agribusiness, and manufacturing sectors in the country.
Based on data from the Central Bank of Colombia, Spain positioned in third place among countries investing in Colombia for the last decade, with an accrued total of $3.6 billion USD and an 8.3% share. According to FDI Markets, the FDI from Spain into Colombia has targeted the following sectors: BPO, communications, software, IT services, hotel infrastructure, and financial services.
Similarly, Spanish companies can benefit from the possibility of leveraging free trade by using Colombia as an export platform to the United States, Canada, Argentina, and Brazil in sectors like pharmaceutical, automotive, auto parts, chemicals, electronic components, metals and machinery, and industrial equipment.
Spanish companies established in Colombia that received support and advice from PROCOLOMBIA include Indra, Telemark, Atento, and NH Hotels.
In regards to Portugal, the total accrued from 2000 to 2012 is $21.5 million USD according to figures from Emisor. FDI Markets notes that these investments have mainly targeted the real estate, software and IT services, hotels and tourism, tobacco, and construction materials sectors, among others.
The most representative projects from Portugal that leverage Colombia as a gateway to North America and South America include: Pestana, Jerónimo Martins, and Prebuild.
Cosmetics and personal care
Information technology and creative industries